Declassification: Which CCUS routes are announced in BP Technology Outlook 2018?
2018-12-29
The Chinese version of "BP Technology Outlook 2018" was released in September 2018. There is a large space introduction in CCUS. ASIACHEM Consulting will decrypt the application and development of CCUS route in this paper.
Carbon capture, use and storage (CCUS) can reduce carbon emissions from power stations and other industrial facilities to minimal levels by capturing carbon dioxide instead of venting it. The captured carbon dioxide can be used, for example being injected into oil fields to stimulate additional production, or stored, typically in underground geological formations.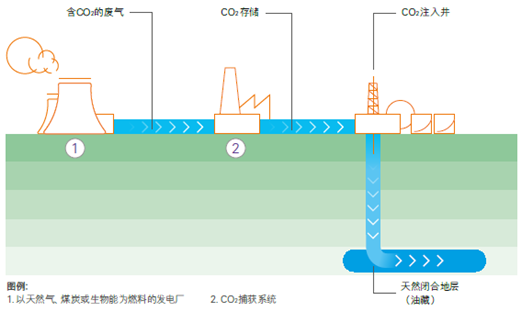 Source: BP, ASIACHEM data collation
CCUS is widely recognised as a tool that could potentially be critical and cost effective in reducing emissions and helping to meet the Paris Agreement goals. It can be applied at power stations burning gas, coal or biomass, or at energy-intensive industrial facilities, with the captured carbon dioxide either being used for commercial purposes, for example in enhanced oil recovery (EOR), or stored securely underground in suitable geological formations.
The relevant technologies are proven and ready but their scale-up needs to be accelerated if they are to achieve their full potential to deliver a low-carbon energy system with optimal use of hydrocarbons. CCUS is only set to become widely deployed in the power sector if it attracts targeted policy support to achieve greater cost reductions and carbon emissions are priced.
Coal and gas-fired power plants capture carbon dioxide to increase oil recovery. Despite the potential plateau in demand for coal-fired power generation it remains a significant power source and technology driven improvements are being pursued. However, greenhouse gas emissions would still be considerably higher than from gas-fired plants, due to the much higher carbon content of coal. Gas-fired power stations have become cheaper and more flexible in recent decades, led by combined cycle gas turbines (CCGT) – a form of highly efficient energy generation technology that combines a gas-fired turbine with a steam turbine. The gas turbine creates electricity and the resulting waste heat is used to create steam, which in turn drives another turbine. Gas and coal plants can be built with carbon capture use and storage (CCUS) technology to capture and store carbon dioxide emissions. While CCUS is uncommon at scale today, most current installations supply the captured carbon dioxide for use in enhancing oil recovery.
Gas can be deployed along with carbon capture use and storage (CCUS). The analysis suggests gas can remain an integral part of the energy mix in a lower carbon world. Decarbonized gas: Natural gas can be decarbonized through the application of carbon capture use and storage (CCUS), as well as by blending it with hydrogen or biogas – gas produced from biological materials. CCUS involves capturing the carbon dioxide created by the combustion of gas or other fuels at power stations and elsewhere, and either using it in a value‑adding way that also includes keeping the CO2 from the atmosphere, such as enhanced oil recovery or other industrial processes, or storing it underground. Decarbonized gas is not currently projected to make progress at a pace comparable to digital innovation, renewable power and energy storage. However, we include it among our game changers because our projections suggest it has an important role in the most cost-effective energy mix for a lower carbon future, and putting a price on carbon could drive wider-scale deployment.
How much carbon price can make CCUS economy? In North America, gas is the cheapest form of back-up generation for renewables and with a carbon price of 100 $/tCO2 it would be cost-effective to decarbonise gas-fired power using CCUS. In Europe, the pattern is similar, although costs are somewhat higher, reflecting the less favourable resources. In China, the programmatic manufacturing approach has resulted in costs for nuclear power that are only around half of those in Europe and North America. The natural back-up options for renewables in China are hydropower and coal, the latter with CCUS at higher carbon prices.
Summary: CCUS is a key component of the low-carbon future. To improve the low-carbon energy system, the scale of CCUS needs to be expanded more quickly. CCUS is only set to become widely deployed in the power sector if it attracts targeted policy support to achieve greater cost reductions and carbon emissions are priced.