Background
Global C4&C5 resources are mainly from refineries and naphtha crackers. China's C4&C5 utilization rate is much lower than the Europe, US, Japan, and the derivatives are simple and similar. So, How to catch the market chances, and realize high value and differentiated utilization of C4&C5 is the focus of the industry.
The global trends of olefin feedstocks lightening is limiting the capacity growth of C4&C5 resources. While the new refining and CTO/MTO projects in China will increase the supply of C4&C5, China will dominate the new-added C4&C5 resources in the future.
The national policy indicated to promote the use of ethanol gasoline by 2020, which will impact the development of MTBE and the C4 industry chain. The C4 and C5 downstream is more and more refined, diversified, and value-added. The industry is facing huge challenges and opportunities.
2nd C4&C5 High-value Utilization Conference 2018 will be held on August 23-24 in Qingdao. The upcoming event will discuss the C4&C5 resources status and trends, New C4&C5 high-end chemicals deep processing technologies and economics, isobutene outlet, C4&C5 high-value derivatives and prospect, etc.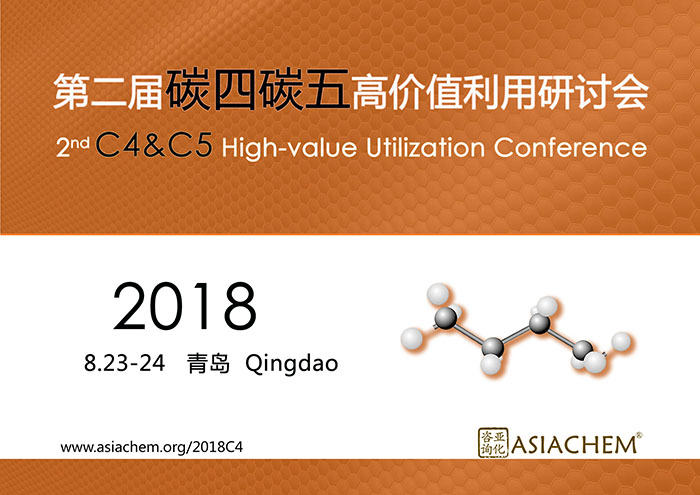 Topics
1. C4&C5 resources status and trends
2. Global olefins feedstock lightening trend and C4&C5 supply and demand balance
3. C4&C5 separation and purification technology
4. C4 (butene, butane, butadiene, etc) utilization technologies and catalysts
5. C5 (dicyclopentadiene, isoprene, pentadiene, pentane, etc.) utilization technologies and catalysts
6. Isobutene downstream updates (MMA, polyisobutylene, butyl rubber, etc.)
7. New C4&C5 high-end chemicals deep processing technologies and economics
8. Engineering examples of C4&C5 by-products value-added utilization
9. C4&C5 high-value derivatives and prospect analysis
10. Business travel
Program
Aug.23 2018 Thursday
08:30~17:00 Business Travel
Aug.23, 2018 Thursday
17:00~21:00 Pre- conference Registration
Aug.24, 2018 Friday
08:30~12:30 Speech
12:30~14:00 Networking Lunch
14:00~18:30 Speech
18:30~20:00 Banquet