Decryption: How does CO2 produce methanol, olefins, aromatics, gasoline, formic acid and degradable plastics?
2018-11-15
l CCS & CO2 to High Value Chemicals 2018 Forum will be held in Wuxi, Jiangsu on December 18-19
l Shanxi Institute of Coal Chemistry, Jiangsu Jinlong-CAS, Xiamen University, Shanghai Advanced Research Institute and other leading enterprises will attend the meeting and report
l Introduction to how CO2 produces methanol, olefins, aromatics, gasoline, formic acid and degradable plastics
CCS & CO2 to High Value Chemicals 2018 will be held in 18-19 December in Wuxi, Jiangsu, China. The upcoming conference will discuss low-cost and high-efficiency CO2 capture, enrichment and transportation technologies, CCUS demonstration of large coal chemical, power generation and petrochemical plants, CO2-EOR experience, CO2 to methanol, olefins, aromatics, gasoline, formic acid and degradable plastics and other high-value chemicals technology and demonstration, etc.
This article will review the latest developments in technologies such as methanol, olefins, aromatics, gasoline, formic acid and degradable plastics in the last year.
-- CO2 synthesis new biodegradable plastics realized mass production
In October 2018, the Science and Technology Daily reported that the team of Wang Xianhong, a researcher at the Changchun Institute of Applied Chemistry of the Chinese Academy of Sciences(CAS), helped 5,000 mu of farmland to "wear" carbon dioxide-based biodegradable agricultural mulch. This research lasted for 20 years and realized the industrial production of carbon dioxide-based biodegradable plastics, with an annual output of 50,000 tons, which can be used to prepare plastic bags and express packaging.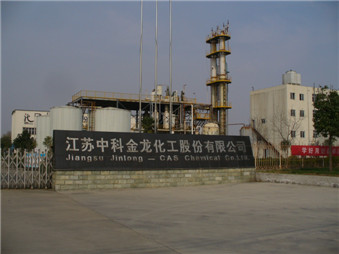 10,000-ton CO2-based polymer production unit in Taizhou, Zhejiang
-- Jinlong-CAS has built a 22,000-ton CO2 based resin production line
Jiangsu Jinlong-CAS Environmental Protection New Material Co., Ltd. was established in August 2003. The company is located in Xiqiao Industrial Park, Taixing City, Jiangsu Province. It has built a PPC (polypropylene carbonate) production line with an annual production capacity of 22,000 tons. The technology comes from the Chinese Academy of Sciences Guangzhou Chemical Co., Ltd. The main products include: PPC polyol, CO2 based biodegradable plastic, CO2 based high flame retardant exterior wall insulation material, CO2 based high barrier material, CO2 based environmental protection coating.
-- The National Key R&D Program "CO2 efficient synthesis of important chemicals and new technologies" project started
On August 30, 2018, the National Key R&D Program led by the Institute of Process Engineering of CAS, "Coal Clean and Efficient Use and New Energy-Saving Technology" Key Project "CO2 Efficient Synthesis of Important Chemicals New Technology" project launch meeting and implementation plan demonstration was held. The project proposes to synthesize ethylene carbonate with CO2 and ethylene oxide, and then two mild conversion routes to produce dimethyl carbonate and ethylene glycol by alcoholysis, and hydrogenation to produce methanol and ethylene glycol.
-- Xiamen University made new progress in CO2 directly to low-carbon olefins with highly selective conversion
In December 2017, Professor Wang Ye of Xiamen University recently made important research progress in the research of CO2 high selective conversion to low-carbon olefins. By designing ZnGa2O4/SAPO-34 bi-functional catalyst, CO2 successfully prepared to produce methanol, coupling of methanol to the olefin (MTO) reaction, the selectivity of the C2-C4 lower olefin in the hydrocarbon product obtained by CO2 conversion is 86%.
-- Shanxi Institute of Coal Chemical purified CO2 to NIPU material technology research and development completed pilot test
In November 2017, the 601 team of Shanxi Institute of Coal Chemistry undertook the "Technology Development of Purification of CO2 to NIPU Materials", completed the pilot test and passed the mid-term inspection of the Shanxi Provincial Science and Technology Department. The project uses CO2 (from Fischer-Tropsch synthesis tail gas) emitted from the chemical production process as raw material to react with diglycidyl ether epoxy compounds to synthesize a series of flexible polycyclic carbonates, and then synthesize on-isocyanate poly-urethane material (NIPU) through processes such as amine hydrolysis and ring-opening polymerization.
-- Methane & CO2 auto-thermal reforming to syngas pilot unit of 10,000 Nm3/a achieved stable operation
On Jul 10th 2017, an auto-thermal reforming to syngas pilot unit for syngas production, built in Shanxi Lu'an Group CTL base, realized stable operation. A field performance test, organized by China Petroleum & Chemical Industry Association, reached end with satisfactory result on Aug 2nd. The unit is daily producing more than 20Nm3 of syngas product of low H2/CO mol ratio. Methane / CO2 reforming to syngas process is originated from a R&D work jointly suggested and done by CAS Shanghai Advanced Research Institute, Shanxi Lu'an Mineral (Group) Co Ltd and Royal Dutch Shell Oil.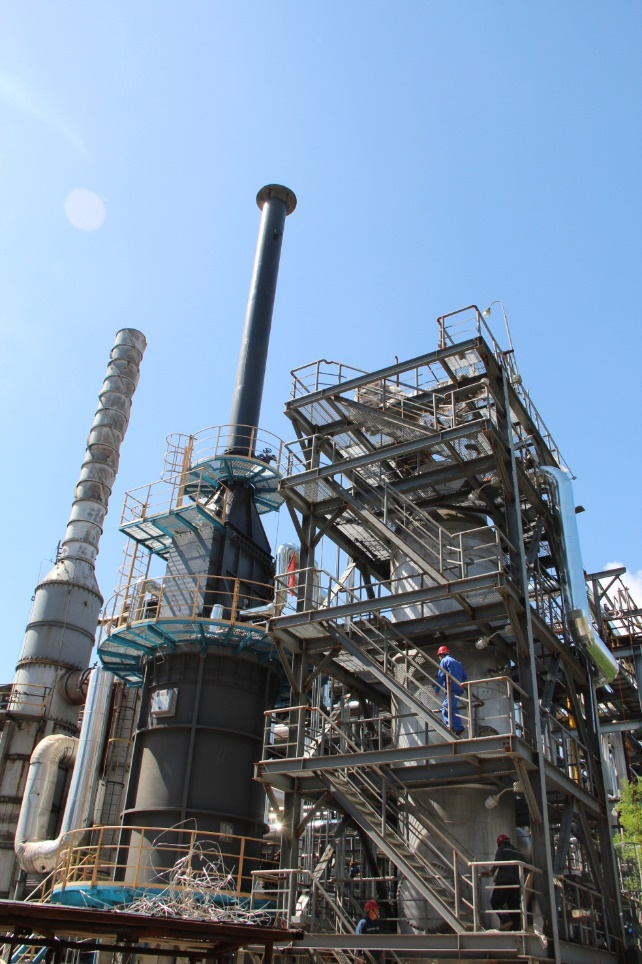 The world's first set of Methane & CO2 auto-thermal reforming to syngas pilot unit of 10,000 Nm3/a
In addition, important research progress has been made: new progress has been made in the research of chemical chain to syngas from the Dalian Institute of Chemical Physics(DICP), CAS, in the preparation of aromatic hydrocarbons from CO2 hydrogenation, high temperature electro-catalytic reduction of CO2, and CO2 hydrogenation to low carbon olefins, and the demonstration of 1,000 tons of CO2 hydrogenation to methanol unit has been started. The University of Science and Technology of China has made progress in the efficient reduction of CO2 to formic acid and CO, and made breakthroughs in the research of electro-catalytic CO2 based multi-carbon alcohol fuel. Fujian Institute of Research on the Structure of Mater (FJIRSM) has made progress on the selective C-H bond carboxylation reaction of CO2 participation, and the research progress of electric reforming methane/CO2 to syngas has been made.
Latest speech schedule
ü Total CCUS Technology and Demonstration Project Introduction - Total China
ü Research Progress in CO2 Chemical Absorption Technology - Zhejiang University
ü Fluor CO2 Capture Technology - Fluor Engineering
ü Low Cost and High Efficiency CCUS Solution - Xinjiang Dunhua Petroleum Technology
ü CO2-EOR Demonstration Experience and Application Practice - PetroChina Changqing
ü CO2 Conversion and Utilization Technology and Engineering Progress - Sinopec Engineering(Group) Co., Ltd.
ü CO2 to High-value Chemicals - Methanol, Isoparaffins, Syngas - Shanxi Institute of Coal Chemistry
ü CO2 to Degradable Plastic Technology and Industrial Demonstration - Jiangsu Jinlong-CAS Chemical
ü CO2 to High-value Chemicals- Olefins and Aromatics - Xiamen University
ü Air Liquide CO2 Capture Technology - Air Liquide
ü CO2 to Methanol Technology and Industrial Demonstration Project - CRI China
ü Research and Application Prospect of CO2 to High-value Chemical Technology - Shanghai Advanced Research Institute
ü Direct Hydrogenation of CO2 to High Octane Gasoline Technology - Dalian Institute of Chemical Physics
ü Application of CCUS and CO2 to Formic Acid/Formic Acid to Hydrogen Production - Guangdong Electric Power Design Institute