Background
From 2008 to 2018, with the rapid growth of gasoline consumption, the capacity of methyl tert-butyl ether (MTBE) also increased rapidly as a gasoline blending component. At present, there are more than 200 MTBE manufacturers in China with a total capacity of about 17Mt/a.
However, in Sept. 2017, the national government announced the policy of promoting ethanol gasoline for vehicles in the whole country in 2020 brought a heavy blow to the MTBE industry. In 2017, the apparent consumption of MTBE in China was 11.79Mt, 95% used for oil adjustment, only 5% for the chemical industry. With the promotion of ethanol gasoline, MTBE will no longer be used as a blending component, which means that most MTBE producers will be forced to change production.
About 92% of China's MTBE is produced from isobutylene. Under the great development of refining & chemical integration and coal (methanol) to olefins, the supply of isobutylene will continue to increase, and the decline of MTBE industry will inevitably exacerbate the excess of isobutylene. What is the way out for MTBE and isobutene? Can device modification maximize the benefits of MTBE companies? What are the overseas MTBE production changing status and its reference value? How does the strict supervision of refined oil tax affect MTBE companies and how to get rid of the dilemma?
MTBE Production Changing Solution & New Technologies Forum 2018 will be organized by ASIACHEM on Oct. 30-31 in Beijing. The upcoming event will discuss global and China MTBE market; historical experience of US ethanol gasoline promotion and MTBE production changing; experience and trend of European MTBE production changing to ETBE; alkylation technology and alkylation oil market; ETBE policy, market and technical feasibility; MTBE device modification technology and cost analysis; Isobutylene chemical utilization technology and product market, etc .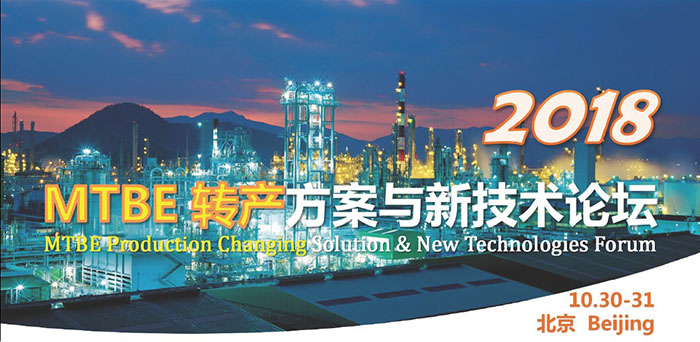 Topics
1. Implementation of ethanol gasoline policy and MTBE production changing solution discussion
2. Historical experience of US ethanol gasoline promotion and MTBE production changing
3. Experience and trend of European MTBE production changing to ETBE
4. ETBE policy, market and technical feasibility
5. Opportunities and risks of alkylation technology and production changing to alkylation oil
6. Isobutylene high-value utilization technology: MMA, polyisobutylene, butyl rubber, etc
7. MTBE device modification technology and cost analysis
8. Impact of tax policy on MTBE companies and production changing solutions
9. Innovative technologies and industrialization prospects for isobutylene producing fuels
10. MTBE export opportunities and challenges
Program
Oct. 29, 2018 Monday
16:00~21:00 Pre- conference Registration
Oct. 30, 2018 Tuesday
08:30~12:30 Speech
12:30~14:00 Networking Lunch
14:00~18:00 Speech
18:00~20:00 Banquet
Oct. 31, 2018 Wednesday
09:00~17:00 Business Travel