Background
China's C5, C9 resources mainly from refinery catalytic cracking, ethylene cracking, coal/methanol to olefins, etc. Taking the ethylene cracking as an example, the by-product C5 and C9 is 10%-15% and 10-20% of ethylene production, respectively. Components of C5 from ethylene, rich in diolefins and monoolefins; C9 has more than 150 components, mainly unsaturated alkenyl and fused aromatic hydrocarbons.
C5, C9 are valuable resources for comprehensive utilization of chemical industry. C5 is mainly used in the fields of synthetic rubber and petroleum resin. C9 is mainly used to produce petroleum resin, aromatic solvent oil and other important products. In recent years, China's major research institutes and enterprises continuously develop innovative processes, and the use of C5 and C9 resources is becoming more refined, diversified and high-end.
There is a certain gap between the chemical utilization of China's C5, C9 with the international advanced level. In the context of refining & chemical integration and the development of coal to olefins, China has become a major source of growth for C5 and C9 worldwide. Compared with the lighter materials in the Middle East and North America, Chinese companies should make efficient use of C5 and C9 resources, develop and utilize new technologies, to improve the added value of downstream products, and enhance the competitiveness of enterprises.
China C5/C9 High-value Utilization Conference 2019 will be held on May 30-31 in Ningbo. The upcoming event will discuss the petrochemical industry policy and C5, C9 key downstream development trends; C5, C9 resource supply & demand status and prospects; efficient C5, C9 fraction separation and purification technology development and industrialization; C5, C9 utilization technology and product market; petroleum resin production technology, raw material optimization, product market; C5, C9 deep processing refinement direction, etc. The meeting will also arrange visits to key industrial park.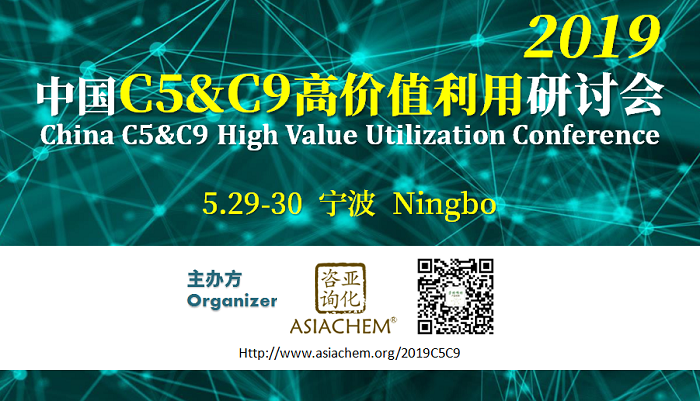 Topics
1. Industrial policy and C5, C9 key downstream development trends
2. Refining & chemical integration, CTO project development and C5, C9 resources supply & demand prospects
3. Efficient C5, C9 fraction separation and purification technology development and industrialization
4. C5 fraction (cyclopentadiene, isoprene, piperylene, etc.) utilization technology development
5. Production technology and application of synthetic rubber based on C5, C9
6. C9 fraction (dicyclopentadiene, styrene, hydrazine, etc.) utilization technology and product market
7. Petroleum resin production technology development and raw material optimization
8. Petroleum resin products application and market analysis (paints, adhesives, etc.)
9. C5, C9 deep processing refinement direction and prospect analysis
10. Petrochemical and coal chemical C5, C9 high-efficiency utilization engineering examples
11. Industrial visits
Program
May 29,2019
09:00-16:00 Industrial Visiting
May 29,2019
17:00-20:00 Pre-conference Registration
May 30,2019
08:00-09:00 Pre-conference Registration
09:00-12:00 Speech
12:00-14:00 Networking Lunch
14:00-18:00 Speech 18:00-20:00 Banquet