ASIACHEM: What's the Record of High Load Continuous Stable Operation of China Coal Gasification Plants in 2017?
2017-11-15
China will add syngas capacity of 27.7 million Nm3/h during 2017-2021

Equivalent to 236 sets of 2000t/d pulverized coal gasifiers

How to reduce the investment of coal gasification plant and improve the operation performance?
Please note that the operation data of the coal gasification unit is entirely from the public information, only for readers' reference, and ASIACHEM does not guarantee the timeliness and accuracy of the data.
The stability and high load operation of gasifier is very important to the profitability of coal chemical plant. By the end of Oct 2017, nearly 1000 gasifiers licensed by more than 20 coal gasification technologies are in operation in China, with total capacity of syngas over 30 million Nm3/h. What progress has been made in the continuous and stable operation of China's coal gasification plant in 2017?
——Coal water slurry gasification
Up to Jul 27th 2017, coal gasifiers installed in Pucheng Clean Energy Chemical Co Ltd methanol production center has been maintained under continuous operation for 378d at high working load rate. The project is designed to apply GE WCS gasification process in the production of 1.8Mt/a coal to methanol, 700kt/a methanol to olefin, 300kt/a polyethylene and 400kt/a polypropylene. Gasification unit was successfully put into operation on October 26th, 2014.
Up to May 16th 2017, the coal gasification unit of Sinopec Qilu PC 2nd Fertilizer factory had been maintained under continuous stable operation for 777d, refreshed world record of coal gasifier operating cycle. The gasification unit was designed on the basis of GE WCS process, started up in Oct. 2018, producing H2 and syngas for Oxo unit.
——Dry pulverized coal gasification
Up to Jul 28th 2017, a HT-L gasifier installed in Xinjiang Zhongneng Wanyuan Chemical Co Ltd has been maintained under continuous operation for 360d, refreshing the world record for gas flow bed gasification process continuous (class A) operating cycle. The project employs a 3200/3800 big size HT-L gasifier, in the production of 400kt/a ammonia and 600kt/a urea, and got through the whole process on August 16, 2015.
——Fixed bed gasification
News reported in Sep 2017 that, through two-months top-up test, Jincheng Coal Group Tianqing Company realized the highest load rate of 10000Nm3/h on single pulverized coal HP gasifier furnace, a new record for the gasifier type in China. Tianqing Company installed in total 6 pulverized coal HP gasifiers, in the production of 180kt/a ammonia, 300kt/a urea and 500mn Nm3/a industrial fuel gas, and got through the whole process in March, 2015.
Up to Apr 14, 2017, China National Coal Ordos Energy Chemical Tuke Fertilizer Project 6# BGL gasification furnace has operation 208 days, exceeds 8# gasification furnace 205 days operation record in Jan, 2017 and set a new record. Phase-1 project is to produce 1Mt/a synthetic ammonia and 1.75Mt urea, total construct 7 sets BGL gasification devices. The project got through the whole process on Feb 1, 2014.
In summary, China's coal gasification technology, operation experience and equipment development is becoming mature, and constantly creating a new world record of high load, continuous and stable operation.
In the next 5 years, CTL, CTO, SNG, coal to methanol, coal to large scale ammonia, CTMEG, coal to hydrogen and coal to ethanol will continue to develop in China. ASIACHEM's research shows that, new coal gasification projects to be built in China during 2017-2021 will add the syngas capacity of 27.7 million Nm3/h, equivalent to 236 sets of 2000t/d pulverized coal gasifiers, which will bring huge demand for gasification technology and equipment.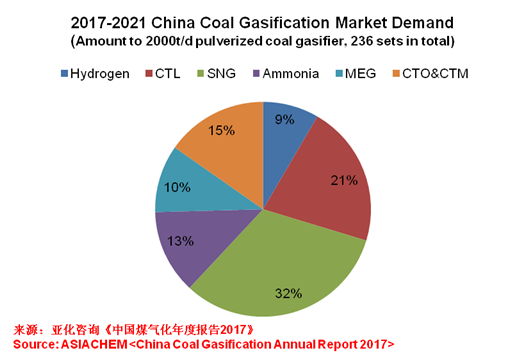 Coal gasification technology licensors, equipment & instrument manufacturers, and engineering companies will not only continue to usher in a huge market opportunity, but also face three challenges. Firstly, the investment of gasification unit accounts for significant proportion of total investment of coal chemical project, and how to reduce the investment of gasification unit? Secondly, stable and high load operation of gasifier is crucial to the profitability of coal chemical plant, and how to improve the performance of gasifiers? Thirdly, gasification technology is developing towards high energy efficiency, large scale and wide coal adaptability, and what are the new requirements for equipment and instrument providers?
Gasification Technology, Operation and Equipment Forum 2017organized by ASIACHEM will be held on Dec 21-22 in Zhuhai, Guangdong, China. The upcoming conference will invite coal chemical companies, coal gasification technology providers, engineering & equipment companies to jointly discuss China's coal chemical outlook & coal gasification market prospect, matching of coal gasification technology & downstream products, experience & daily management of high load & long period operation of gasification unit, advanced equipment & instrument for optimization of coal gasification performance, environmental strategy & wastes treatment of coal gasification unit, development trend of new generation gasification technology, etc.