ASIACHEM: 2016-2018 China Proton Exchange Membrane R&D Progress
2018-02-23
Proton exchange membrane fuel cell (PEMFC) is a power generation device that directly transforms chemical energy inside hydrogen and air which is external supplied to electric energy, heat energy and other reaction products via electrochemical reaction. PEMFC is made up of end plate, insulation plate, collector plate and monocells. Among, monocell is made up of bipolar plate and membrane electrode assembly (MEA). MEA is mainly made up of 5 layers of materials, which are 2 gas diffusion layers (GDL), 2 catalyst layer and 1 proton exchange membrane (PEM).
Among, PEM directly influences working life of fuel cell. There are 2 main roles of PEM: 1. To provide hydrogen ions passageway to electrolyte; 2. As separator, to separate reactant gases of 2 electrodes. Besides, it has to play a role of supporting to catalyst layer.
Types of PEM mainly include perfluorinated PEM, non- perfluorinated PEM, fluorinated PEM, composite membrane and high temperature membrane. Public information shows that, Nafion series perfluorinated PEM of DuPont is most widely applied currently.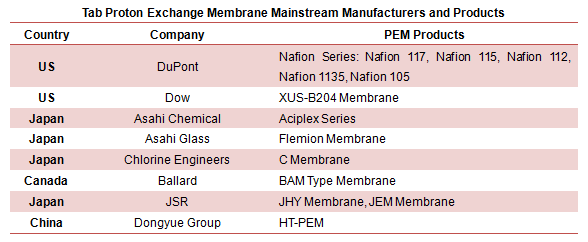 US Department of Energy data shows that, in 2017, PEMFC system cost of production of 100 thousand sets is USD 50/kW, among, PEM cost occupation is 12%.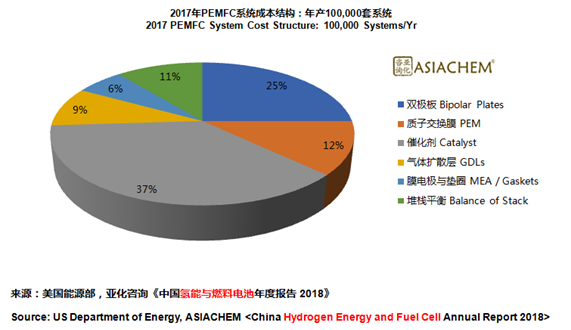 However, perfluorinated framework of Nafion preparation process is complicated, cost is high, may cause pollution to the environment. Under high temperature, Nafion membrane has serious fuel penetration and PEM electrical conductivity decrease etc, disadvantages. In hence, to develop new polymer PEM that has good performance to replace Nafion is hotspot of current research.
ASIACHEM <China Hydrogen Energy and Fuel Cell Annual Report 2018> research indicates that, from 2016 to 2018, China PEM R&D progress is as below.
China University of Geosciences
Jan 2018, Prof. CHENG Hansong, one of 'Thousand Talents Plan', Prof of Faculty of Materials Science and Chemistry Sustainable Energy Lab, he and his team prepared a new composite PEM base on SPEEK [sulfonated poly (ether ether ketone] and BPPO [bromomethylated poly (phenylene oxide)]. Information shows that, direct methanol fuel cell (DMFC) assembled by this membrane has higher cell performance at both low methanol concentration and high methanol concentration than Nafion.
Shanghai Jiao Tong University
Dec 2016, Shanghai Jiao Tong University official website announced that, Prof. ZHANG Yongming, School of Chemistry and Chemical Engineering, received 'Technique Reached Standard Award' issued by AFCC, a joint venture company founded by Daimler Benz and Ford and mainly engaged in R&D fuel cell engines. The announcement shows that, under premise of maintaining high performance, working life of fuel cell PEM R&D by ZHANG Yongming team is as long as more than 6000 hours.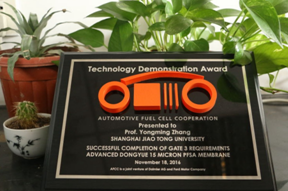 Information shows that, AFCC requires every component of fuel cell to pass 3 different stages' technical appraisals. PEM is not an exception. Only pass these 3 stages' technical appraisals can be adopted by fuel cell vehicle industry.
University of Electronic Science and Technology of China
Aug 2016, Prof. HE Weidong of University of Electronic Science and Technology of China prepared new pulping process and membrane formation process. PEM produced by its circular mould have reached order of hundreds of square centimeter. Prof. HE Weidong stated that, its proton conductivity is 1.78 times of DuPont Nafion 117 PEM; cost, however, is only 1/10 of DuPont PEM.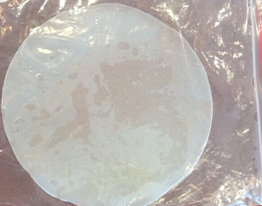 Hubei Engineering University
Apr, 2016, research team of Hubei Engineering University successfully uniformity coated a layer of SiO2 on surface of carbon nano-cube via Sol-gel method, and constructed a co-axial nanocable hybridization composite material. Use chitosan as base, and to self assemble with this composite material, a kind of low cost and high performance fuel cell composite PEM is prepared.
Co-axial nanocable hybridization composite material has uniform dispersion in chitosan base, can effectively increase oxidation stability of chitosan membrane, and increase tolerance of chitosan under DMFC operating condition; thermal stability, mechanical stability and proton conductivity of composite membranes are all significantly increase.
Dongyue Group
As only China enterprise that passed AFCC technical expertise, Dongyue Group signed joint R&D agreement facing to fuel cell vehicle commercialized used perfluorinated PEM and MEA used resin with Benz and Ford. In 2014, PEM of Dongyue Group only has 800h life, and which reached 2000h in 2015, and successfully broke 6000h in 2016. Currently, Dongyue Group has construction 50t/a PEM needed perfluorosulfonic acid resin (PFSR) production device, and can meet requirement of 25k FCV (fuel cell vehicle).
Public information shows that, currently, price of DuPont Nafion PEM is USD 120/kW. ASIACHEM calculates that, if FCV system rated power is 36kW and annual produce 100k sets system, then only fuel cell system cost is USD 36k, such high cost will seriously constrain development of China hydrogen energy FCV. Rely on domestic technology exploration, develop new PEM preparation technologies and application will be the road PEM cost reduce must take.