ASIACHEM: China PDH Will Byproduct Hydrogen 370kt in 2023, Which Can Support 200k FCV Operation
2018-06-05
ASIACHEM notes: hydrogen energy industry is a huge industrial chain from hydrogen production, storage and transportation to application. In order to support hydrogen energy industry scaled development at present, industrial byproduct hydrogen resource, which do not generate extra carbon emission, like propane dehydrogenation, ethane cracking, coke oven gas and chlor-alkali chemical etc. need to be paid attention to. China Hydrogen Resources and Hydrogen Energy Forum 2018 will be held in Dalian, Liaoning on Sep 18-19, and <China Industrial Byproduct Hydrogen Resource Potential> will be one of key issues discussed in the meeting.
In May 2018, Clariant Specialty Chemicals, a leading specialty chemical manufacturer in the world, announced that it won the bidding on the project contract of Jinneng Science and Technology, would cooperate with CB&I Corporation to design world largest propane dehydrogenation (PDH) unit. This project bases on the CB&I advanced CATOFIN PDH technology, combines with Clariant customized the CATOFIN catalyst and heat generating material (HGM).
Before, in Feb 2018, Jinneng signed <Jinneng Science and Technology New Material and Hydrogen Energy Comprehensive Utilization Project Investment Cooperation Agreement> with Qingdao West Coast District Administrative Committee. According to <Agreement>, the project will total invest CNY 20.3bn, will be construction by phases, among, Phase-1 total investment is CNY 9bn, to construct 900kt/a PDH and 8×60lt/a Green Carbon Black Cyclic Utilization Project, and 450kt/a high performance PP project.
In Mar 2018, Oriental Energy released announcement, the company signed <Oriental Energy Paraffin Resource Deep Processing Base and New Material Project Cooperation Agreement> with Administrative Committee of Xuxu New District, Lianyungang, Jiangsu, project total investment is CNY 20bn, to construct PDH to propylene and PP device, and high-end PP composite material factory represented by carbon fiber. The project plans to be construction by 2 phases, project content includes 2 50kt level liquefied hydrocarbon docks and supporting tank areas, 2 660kt/a PDH devices and 2 400kt/a PP devices and supporting catalyst preparation factory, and the high-end PP composite material factory which represented by carbon fiber etc.
ASIACHEM <China Hydrogen Energy and Fuel Cell Annual Report 2018> data shows that, up to May 2018, China totally has 8 PDH projects operation, and 5 under construction. Besides, there are many PDH projects of many enterprises are under preparation work, among, 4 of them have exact plans on operation years. These 17 PDH projects propylene total capacity will reach 9.75Mt/a, and byproduct hydrogen 370kt/a.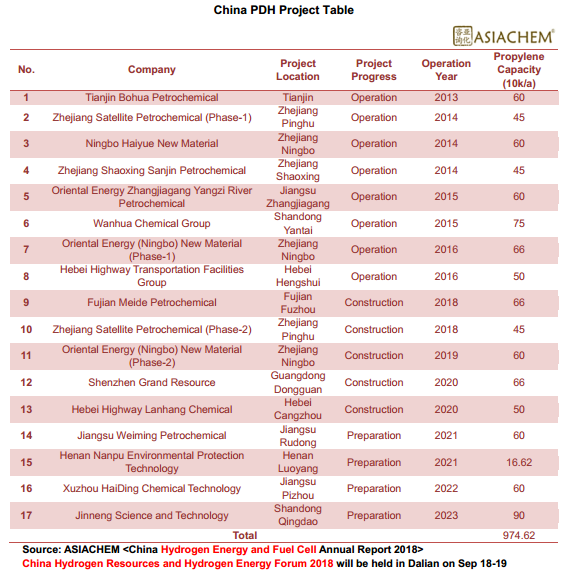 According to ASIACHEM database, from 2017 to 2023, China PDH projects byproduct hydrogen capacity is as fig shown below. In 2023, China PDH projects can byproduct hydrogen 370.6kt/a, according to each hydrogen fuel cell vehicle needs to refuel 5kg hydrogen per day and driving mileage is 200km, these byproduct hydrogen every year can supply 203.1k hydrogen fuel cell vehicles driving on the roads.