Hengli Petrochemical will build 1.8Mt/a MEG unit, Coal to MEG is facing a strong competitor?
2018-03-09
On February 28th 2018, Hengli Petrochemical Co., Ltd announced, in order to make full use of the 20Mt/a refining integration project byproducts, to maximize the advantages of refining chemical integration, the company's wholly-owned subsidiary of Hengli Petrochemical (Dalian) Chemical Co., Ltd. ("Hengli Chemical" for short) plan to construct 1.5Mt/a ethylene project in Hengli Petrochemical Industrial Park, Changxing Island, Dalian City.
Public information shows that the project will build 1.5Mt/a steam cracking and upstream /downstream facilities, in total of 12 sets, which includes two sets of MEG units with a single line scale of 900kt/a, and the total capacity of MEG is 1.8Mt/a.
ASIACHEM believes that the following advantages of the project will make it a strong competitor in the rapidly developing of coal to MEG industry:
1. Large scale capacity of single line leads the better scale effect. The EG unit is called a single line of 900kt/a MEG (as product), with a total of two lines.
2. Integration advantage. Hengli Petrochemical 20Mt/a refining and chemical integration project (including 4.5Mt/a PX), is now entering the peak period of construction, which started construction in December 2015, and is scheduled for production in October 2018. The MEG capacity and PX-PTA capacity can be matched nearly and will reduce transportation cost.
ASIACHEM's study shows that the industry of coal to MEG still has excellent competitiveness because of the following advantages.
1. The technology of coal to MEG has been mature. In 2017, the coal to MEG projects which have been put into operation in China, have been widely implemented in high load and stable operation, and moving towards over 100% high load and stable operation as well as coal to olefins industry.
2. The product quality and cost advantage of coal to MEG actually have been recognized by PET fiber industry. In January 2018, Puyang Yongjin successfully signed an annual EG sales contract with Zhejiang Hengyi Group to achieve long-term cooperation. Since 2017, Puyang Yongjin and Tongkun Group, Xinfengming Group, Fujian Billion Holdings domestic polyester enterprises etc, have signed contracts to establish long-term strategic cooperative relations.
3. Coal to MEG has cost advantage, the raw material price of coal is not affected by international oil price. Price of coal is relatively stable compared to the refining integration projects, which need to purchase crude oil. In the background of strong recovery of oil price, coal to MEG has more cost advantages, compared with petrochemical route MEG.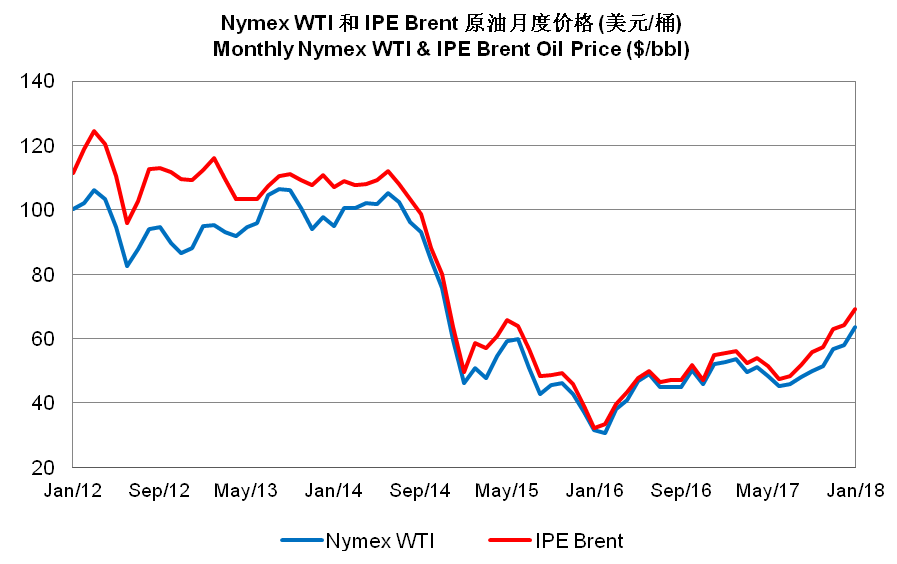 4. The domestic MEG market space is huge. In 2017, the prosperity of China's PET industry continued to rebound, the profitability increased. The PET effective capacity reached 50Mt, and the output was about 41Mt. In 2018, China's PET terminal consumption continued to grow, and China's implementation of import restrictions on waste plastics will significantly reduce the import of recycled PET, thus bringing more market space to the original PET. In 2017, China's EG output exceeded 6Mt, and net imports exceeded 8.6Mt. It is expected that China's MEG consumption will continue to maintain strong growth in the future.
5. Strong ethylene price will provide a strong support for the MEG market. MEG from petrochemical route is made of pure oxygen and ethylene as raw material. The oxidation reaction produces ethylene oxide, and ethylene oxide is further hydrated to produce MEG. The continued strength of ethylene prices strongly supports the market of MEG, making coal to MEG more profitable.
More information on the industry analysis of coal to MEG, please focus on China's Coal to MEG Annual Report 2018, which is to be launched in March 2018 by ASIACHEM.