ASIACHEM: 2018 China's MEG capacity structure and development trend of CTMEG technology
2018-03-12
The product quality and cost advantage of coal to MEG actually have been recognized by PET fiber industry. In January 2018, Puyang Yongjin successfully signed an annual MEG sales contract with Zhejiang Hengyi Group to achieve long-term cooperation. Since 2017, Puyang Yongjin and Tongkun Group, Xinfengming Group, Fujian Billion Holdings domestic polyester enterprises etc. have signed contracts to establish long-term strategic cooperative relations.
At the same time, the capacity of Coal to MEG has also occupied an important proportion of China's MEG capacity. ASIACHEM's Coal to MEG Annual Report 2018 data show that, up to 2018Q1, China has built 19 sets of petrochemical route MEG units, with the total capacity of 4.95Mt/a; 2 sets of MTO route with total capacity of 780kt/a; 17 sets of syngas via oxalate route, with total capacity of 3Mt/a.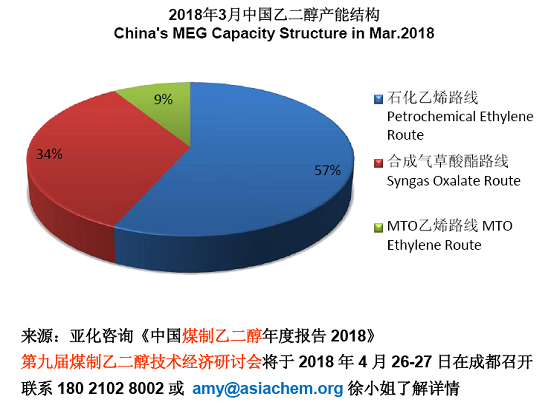 In 2017, China's CTMEG plants have generally achieved high load and stable operation. The technological R& D of CTMEG via oxalate route is developing toward the directions of large-scale, low cost, high selectivity, long catalyst life, and environment-friendly.
Large scale
The existing production of syngas via oxalate route of coal to MEG, using a single Di-methyl oxalate (DMO) reactor capacity is generally 60-80kt/a, and a single DMO hydrogenation MEG reactor production capacity is generally 50kt/a MEG. Small tubular carbonylation reactor and tubular hydrogenation reactor, result in high investment, high energy consumption, more side products, low production load, high steam consumption and other defects.
At present, the leading coal to MEG technology provider is actively carrying out the reactor large-scale work. The capacity of a single DMO reactor will be increased to 100-200kt/a. The capacity of a single MEG reactor will increase to 75-100kt/a, and it is expected to industrialize in 2018.
In addition, public information shows, Nanjing Dunxian Chemical Technology Co., Ltd. successfully developed large-scale radial coil type carbonylation reactor and radial ball cavity header serpentine type hydrogenation reactor to replace the existing tubular carbonylation and hydrogenation reactor. For a set of 200kt/a CTMEG scale unit, it can reduce investment of CNY200 million, and save more than CNY 80 million of operating expenses, due to reducing the resistance of reactor and steam consumption of distillation unit. In addition, the service life of the catalyst can be prolonged, which can realize the long period and full load operation of MEG unit.
Process optimization to reduce cost further
In addition to the large-scale reactor, the cost of CTMEG can be further reduced by optimization of the process.
Through the dilute nitric acid reduction process, it can reduce the production of hazardous waste nitrate and reduce the discharge amount of salt wastewater. The technology wastewater is easier to meet the standard discharge, thereby reducing the cost of environmental protection and ensuring the long term and safe operation of production equipment.
The optimization of the by-products recovery process can improve the income. By increasing the DMC recovery and separation unit in DMO synthesis process, can obtain industrial grade DMC products, and ethanol and dihydric alcohol by-products in MEG distillation section can be recycled.
By improving the process flow and optimizing the energy utilization, the energy consumption and the carbon emission of the MEG project can be reduced.
Catalyst of high selectivity, long life, and environment-friendly
At present, the DMO catalyst of leading coal to MEG technologies can achieve more than 99% selectivity, and the selectivity of hydrogenation catalyst is also greater than 98%. The actual service life of the two catalysts is more than expected. In this context, leading CTMEG technology providers are continuously improving catalysts, such as further improving the heat and mass transfer of carbonylation catalysts, and further reducing the selectivity of trace impurities in hydrogenation catalysts.
More information on the industry analysis of coal to MEG, please focus on China's Coal to MEG Annual Report 2018, which is to be launched in March 2018 by ASIACHEM.