ASIACHEM Released 2018 China Coal (Syngas) to MEG Project Map, CTMEG Capacity Will Reach 13.5Mt/a in 2022
2018-03-20
As of Mar. 2018, there are 17 coal (syngas) to MEG (CTMEG) projects in China, which have been put into operation and commissioned, with total MEG capacity of 3Mt/a.
For coal (syngas) to MEG projects under stages of commissioning, construction, developing or planning, ASIACHEM proceeded with deep study on the owner's power, approval progression, construction schedule, downstream planning and resource allocation etc of individual projects, and made conclusion that 39 of them will have 50% or higher probability to come true, and adding 17 projects of under operation and successfully commissioned, they will totalize up to 13.5 Mt/a of MEG capacity by the year of 2022. 2018 China coal (syngas) to MEG project map is as follows.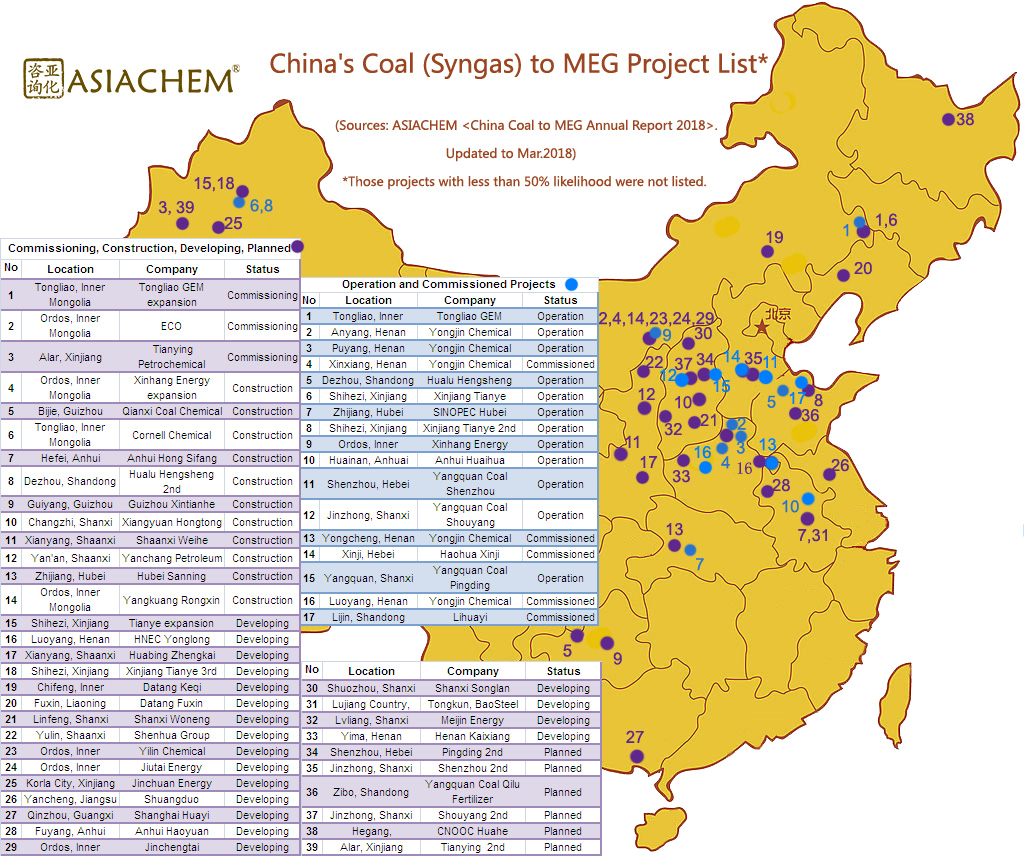 In 2017, a series of breakthroughs have been made by the operation performance of commissioned CTMEG projects:
As shown in Danhua Technology 2017 Annual Report, Tongliao GEM MEG unit was maintained online for 325d, outputted 137.3kt EG and 71.4kt oxalic acid, increasing by 11.32% and 15.53% respectively over the level of previous year. The plant was operated at 86.48% load rate in average. The report also stated that Tongliao GEM MEG capacity expansion project hit completion and started commissioning by the end of 2017, adding 70kt/a MEG and 30kt/a oxalate to the design capacity. In addition, the first phase of 3kt/a primary polyglycolic acid (PGA) unit was completed by the end of 2017.
In Aug 2017, Henan Energy Chemical Group Yongcheng 200kt/a MEG unit was stabilized at above 95% load rate in recent days, with highest daily output of 586t, made new record in business operation.
On Aug 11th, SINOPEC Hubei Fertilizer Branch 200kt/a syngas to MEG unit, realized full load rate production by outputting 54-55t DMO and 25-26t MEG per hour, after optimizing the equipment. In 2017, total 122 thousand tons of MEG products were sold.
On Sep 1st, Yangquan Coal Group Shouyang Chemical 200kt/a MEG project smoothly passed 72h full load performance test, realizing 675.89t EG output on a single day, exceeding design capacity by nearly 20t, and 619.76t out of the total were inspected of premium grade quality. In 2017, the average load rate was 85% for the whole year, and profit was CNY 95 million.
In September 2017, Xinhang Energy organized an expert panel to carry out 72h field performance test on a 2nd generation hydrogenation catalyst used in the company's 300kt/a syngas to MEG plant. During the field test, operating load rate for carbonylation unit was exceeding 104%, for hydrogenation unit exceeding 110%, showing 100% oxalate conversion.
In 2018, China will add 2.38 Mt/a CTMEG capacity, and the CTMEG capacity will reach 13.5Mt/a in 2022.
2013-2022 China CTMEG capacity growth is as follows. ASIACHEM's China Coal to MEG Annual Report 2018 shows that the year of 2018 will be the beginning of outbreak of CTMEG capacity in China, and 11 new projects will increase a total of 2.38 Mt/a MEG capacity, and the capacity will reach 13.5Mt/a in 2022.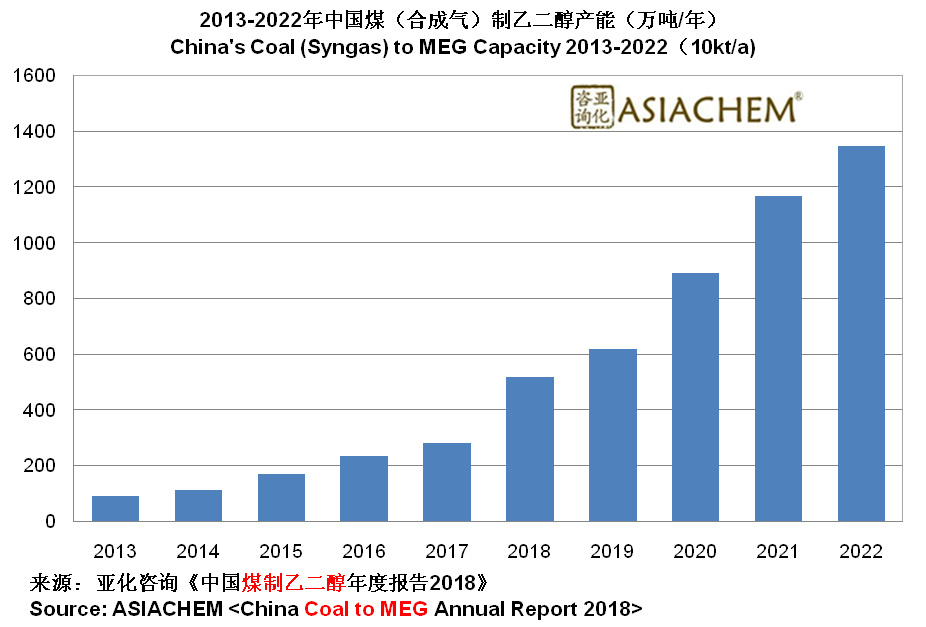 More information on the industry analysis of coal to MEG, please focus on China's Coal to MEG Annual Report 2018, which is to be launched in March 2018 by ASIACHEM.