China's CTO/MTO Olefin Capacity Will Reach 25Mt by the End Of 2021, How is the Project Economy and Layout?
2018-03-21
Olefins Feedstock Diversification Forum 2018 will be held on Mar. 28-29 in Wuxi. An industrial visiting to SP Chemical Company 1.1Mt/a LHUP Project will be arranged.

Experts from Shaanxi Coal and Chemical Industry Group, Shenhua Research Institute will attend the forum,and give speech on coal (methanol) olefins projects layout, competitiveness, how to deal with challenges, etc.
----China MTO project economy
Compared with CTO projects built in coal production areas, the outsourced methanol to olefins plant eliminates the coal gasification and methanol synthesis section, and the corresponding investment is much smaller. However, most MTO projects are far from the native methanol production areas, where the methanol price is higher. As a result, raw material costs have risen sharply while financial, depreciation, and energy consumption have fallen.
With polyolefin as the target product, when the price of methanol fluctuates between 1600-4000CNY/t, the cost of MTO production in East China (excluding VAT and freight, based on 585CNY/t thermal coal price, deducting the income of by-products) in the range of 5700-11200CNY/t. Assume that the average price of PP/PE in East China market is maintained at 9600CNY/t. When the raw material methanol market price is higher than 3,274 CNY/t, the outsourced methanol to polyolefin project will not be profitable.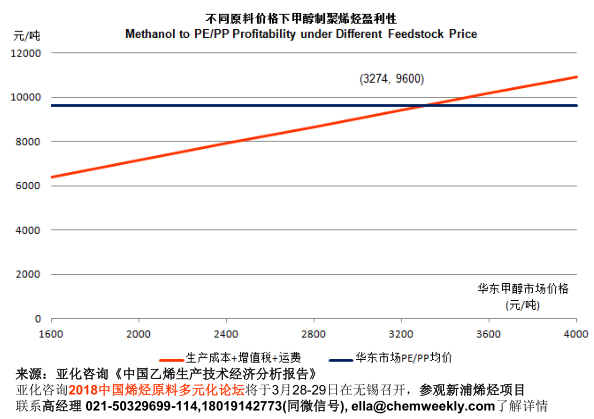 ASIACHEM calculated the total cost and profit of 1.8Mt/a methanol to polyolefin project in East China from 2015 to 2018 as shown below. In 2017, the profit of tons of methanol-produced polyolefin products was 965CNY/t. The sharp rise in methanol prices at the end of 2017 has created great challenges to the profitability of MTO projects, some of the outsourced MTO projects have experienced phased losses.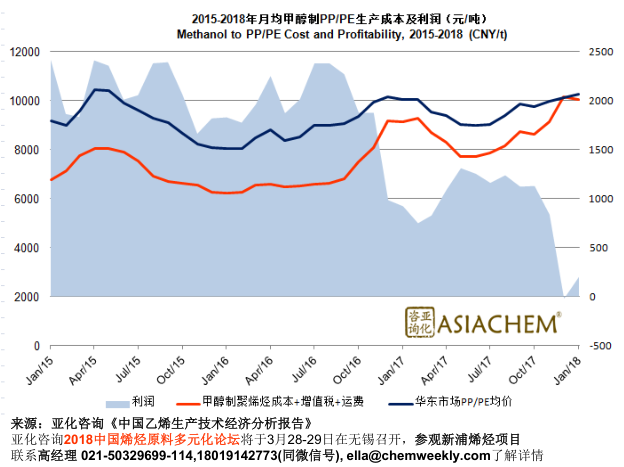 ----MTO project layout and outlook
The MTO project in the eastern coastal regions of China has developed rapidly, bringing huge demand for methanol. According to ASIACHEM statistics, the current capacity of China's outsourced MTO project has reached 4.96Mt/a (approximately 850kt/a of MTP projects that have not been operated in a stable manner, and not counted, the same below). The total demand for purchased methanol has reached 12.5Mt/a (100% operating rate).
Among, the 7 MTO projects put into operation in the coastal areas of East China have a combined olefins capacity of 3.64Mt/a, and the demand for purchased methanol is 8.9Mt/a. According to the data from ASIACHEM, in 2017, 7 MTO units along the coast produced 2.63Mt of olefins, consuming approximately 7.15Mt of methanol.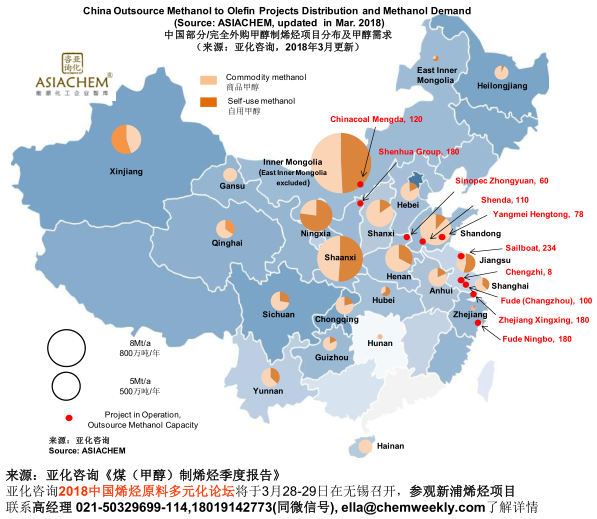 ASIACHEM data shows that there are more than 30 CTO/MTO projects under construction, preparatory work, or planning, it is expected that a total of approximately 25Mt/a of olefin capacity will be formed by 2021. Around 12Mt of olefins will be added during the next 4 years. Among, the new MTO capacity was 3.42Mt/a, and the newly added demand for purchased methanol is 8.46Mt/a. By then, the total demand for outsource methanol of MTO project in China will reach 21Mt/a.
How to solve the problem of the source of raw materials required for the project and obtain low-cost methanol resources has become a major concern for MTO manufacturers. Under the stimulation of the shale gas revolution, the US has already planned a large number of natural gas based methanol projects, including Yuhuang and CECC, which also invest in large methanol projects in the US. The products are aimed at China's methanol downstream market, including coastal MTO projects.
Recently, COSCO, IGP Methanol Co., Ltd. and Jin Guotou (Dalian) Development Co., Ltd. signed the "Cooperation Memorandum of Understanding on US Gulf of Mexico Methanol Project". The three parties agreed to jointly develop 1 to 2 sets of 1.8Mt of natural gas based methanol plant in the US Gulf of Mexico methanol park to meet the raw material needs of Jingang Petrochemical's 3.6Mt/a MTO project in China.
ASIACHEM believes that obtaining a stable supply of raw materials and achieving stable operation at high loads is the key to the success of the CTO/MTO project. The high-load and stable operation can reduce the financial and depreciation costs allocated to the unit product, and it also can reduce the energy consumption of per unit product. For MTO projects, seeking low-cost methanol resources, timely adjustment of production strategies based on market conditions, and extending to the upstream methanol industry will be good way for the project to resist risks.
As the conference is coming soon, would you please to confirm and arrange the schedule for this event?