Background
China's refining & chemical industry is facing problems of continuous structural contradiction and urgent demand of transformation & upgrading. On the one hand, oil refining capacity in China reached 772Mt/a by the end of 2017, with the pressure of eliminating backward production capacity and dissolving excess capacity; on the other hand, ethylene, PX and other commodities show large import, and high-end products such as engineering plastics, high performance resins, etc., still depend on import.
China is spurring the elimination of backward and inefficient oil refining capacity; planning layout of seven main petrochemical bases, promoting the construction of refining & chemical integration (RCI) projects; advancing the implementation of cleaning production reconstruction and "Intelligent Plant" "Digital Workshop" reforming & upgrading in refining & chemical industry, to overall improve its intelligentized, digitized and green development level.
Sinopec plans to invest CNY 200bn during "13th Five-Year" period, in optimization and upgrading of 4 world-class RCI bases, namely Maozhan, Zhenhai, Shanghai, and Nanjing, and Sino-Kuwait RCI project plans to be put into operation by the end of 2019. CNPC has adjusted the scheme of Sino-Venezuela Guangdong Petrochemical project to "oil refining-aromatics-chemical integration", and strived to restart the construction in 2018 and commission in 2021. Sinochem Quanzhou RCI (phase II) project plans to be put into operation by the end of 2020. Besides, Gulei RCI project of mainland-Taiwan joint venture, has started construction, and NORINCO Group fine chemical & raw materials project cooperated by China and Saudi Arabia is positively advanced.
Private enterprises become a major force in large scale RCI project construction. Hengli 20Mt/a RCI project and ZPC 40Mt/a RCI (phase I) project will soon go into production. Shandong Refining & Chemical and Zhejiang Petroleum, two provincial local refineries, propose ambitious RCI planning layouts. The construction of several RCI projects such as Shenghong Refining & Chemical, Xuyang Petrochemical, Xinhua Petrochemical and so on, are being actively promoted. The construction of Hengyi Brunei PMB petrochemical project in the country along the Belt & Road is progressing smoothly, and the phase II project plans to be implemented.
The 3rd China Refining & Chemical Integration Conference will be organized by ASIACHEM on Jun. 27-28, 2018 in Dailian. The upcoming conference will discuss global & China RCI industry outlook 2018-2022; profitability analysis & prediction of RCI projects; diversified competition & cooperation in RCI industry: central enterprises, private enterprises; the Belt & Road initiative and opportunities for international capacity cooperation in RCI industry; local refineries RCI planning layouts; central enterprises' RCI business transformation & upgrading: Sinopec, CNPC, CNOOC, Sinochem, NORINCO, etc.; development & application of RCI new technologies, new products and new equipment; RCI downstream product structure planning, etc. Besides, an industrial visiting will be arranged.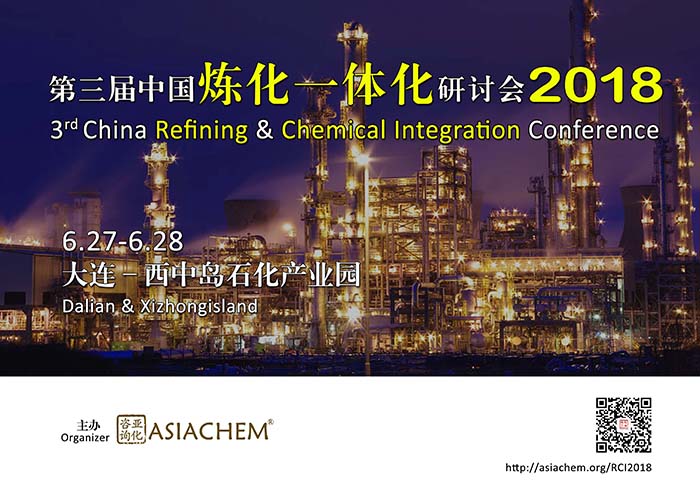 Topics
1. Global & China RCI industry outlook 2018-2022
2. Profitability analysis & prediction of RCI projects
3. Diversified competition & cooperation in RCI industry: central enterprises, private enterprises
4. Belt & Road initiative and opportunities for international capacity cooperation in RCI industry
5. Global & China's oil products, olefins and aromatics market outlook
6. Local refineries RCI planning layouts
7. Central enterprises' RCI business transformation & upgrading: Sinopec, CNPC, CNOOC, Sinochem, NORINCO …
8. Development & application of RCI new technologies, new products and new equipment
9. RCI downstream product structure planning
10. "Intelligent" "Digital" reforming & upgrading in RCI industry
11. Energy-saving & environmental technologies for RCI industry
12. RCI project overseas cooperation opportunities (Iran, India)
13.Industrial visiting
Program
Jun.26, 2018 Tuesday
17:00~20:00 Pre- conference Registration
Jun.27, 2018 Wednesday
08:30~12:30 Speech
12:30~14:00 Networking Lunch
14:00~18:30 Speech
18:30~20:00 Banquet
Jun.28, 2018 Thursday
08:30~17:00 Industrial visiting