Background
In 2019, China is in the peak competition period of refining & chemical integration (RCI) projects. Private enterprises are competing to be first, i.e. Hengli RCI project will go through the whole process soon, ZPC RCI project (phase I) will be put into operation soon, Shenghong RCI project has started construction, and Xuyang Petrochemical RCI project will be started soon. Sinopec, CNPC, Sinochem, and other central enterprises are speeding up the layout, i.e. Sino - Kuwait RCI, Sino – Venezuela Guangdong Petrochemical RCI, Sinochem Quanzhou RCI (phase II), are promoting orderly. Shandong local refining industry is also speeding up transformation & upgrading, to plan and arrange large-scale RCI projects.
International petrochemical giants are participating vigorously. Wholly foreign-owned petrochemical projects invested by ExxonMobil, BASF and so on, are promoting orderly. Shell, SABIC, Saudi Aramco will carry out cooperation with domestic petrochemical enterprises in RCI field. Besides, acting on "Belt & Road initiative", phase II of Hengyi Brunei PMB petrochemical project plans to be implemented.
In 2018, China imported 462Mt crude oil, with external dependence over 70%, facing international oil price fluctuation risk; meanwhile, China's oil refining capacity was more than 800Mt/a, with the problem of overcapacity. However, basic materials such as olefins, aromatics, as well as high-end petrochemical products are facing the pressure of large import. Therefore, improving the level of refining & chemical integration (RCI) has become one of the leading directions for China's petrochemical industry transformation & upgrading.
The 4thChina Refining & Chemical Integration Conference will be organized by ASIACHEM on May. 28-29, 2019 in Ningbo. The upcoming conference will discuss global & China RCI industry outlook 2019-2023; operation experience & profitability analysis of RCI projects; diversified competition & cooperation in RCI industry: central, private, foreign enterprises; RCI transformation & upgrading; RCI innovative processes & high-end products, etc. Besides, an industrial visiting to the key petrochemical park will be arranged.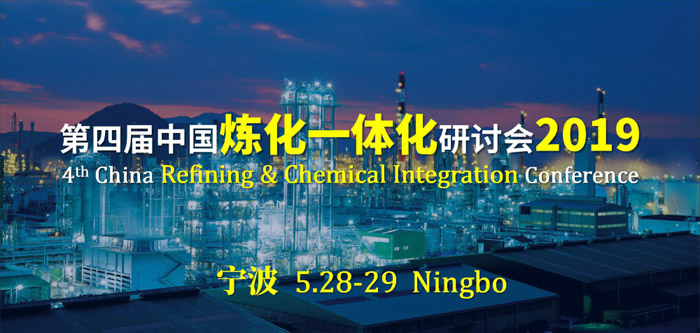 Topics
1. Global & China RCI industry outlook 20198-2023
2. Progress of new larger-scale RCI projects
3. Operation performance & profitability analysis of RCI projects
4. RCI projects diversified competition & cooperation: central, private, foreign enterprises
5. Competitive analysis of key petrochemical bases & projects: Dalian, Lianyungang, Zhoushan, Huizhou, Brunei
6. Competitive analysis of diversified feedstock: RCI, coal chemical, overseas shale gas chemical
7. Competitive key & high-end petrochemical products planning
8. Local refineries transformation & upgrading and technology selection
9. "Belt & Road initiative" & overseas RCI projects
10. RCI innovative processes & operation optimization
11. "Intelligent" "Digital" technologies in RCI industry
12. Energy-saving & environmental technologies for RCI industry
13. Industrial visiting
Program
May27,2019
17:00-20:00 Pre-conferenceRegistration
May28,2019
08:00-09:00 Pre-conferenceRegistration
09:00-12:00 Speech
12:00-14:00 NetworkingLunch
14:00-18:00 Speech
18:00-20:00 Banquet
May29,2019
09:00-16:00IndustrialVisiting