ASIACHEM: Countries Are Announcing Plans to Ban the Sales of Gasoline and Diesel Vehicles. However, Is There Enough Cobalt Resources?
2017-10-24
Up to 2017, many countries in the world announce plans to ban the sales of gasoline and diesel vehicles. Government of Netherland and Government of Norway successively announced to ban the sales of gasoline and diesel vehicles from 2025; Government of France announced to completely ban the sales of gasoline and diesel vehicles before 2020; Government of the United Kingdom announced to start to ban the sales of traditional diesel and gasoline vehicles; Government of India stated to stop selling of vehicles which use oil fuel as power by 2030.
Although China does not have relative timetable, in Sep 2017, MIIT released 'Passenger Used Vehicle Enterprises Average Fuel Consumption and New Energy Vehicle Credits Parallel Management Method', the Method will start implementation on Apr 1, 2018, it will speed up China new energy vehicle industry.
Influenced by these, many global vehicle enterprises accelerate EV production plan. Jul 2017, Volvo announced that, it planned to stop production and sales of combustion engine vehicles from 2019, and would promote 5 brand new BEV from 2019 to 2021. Sep 2017, Daimler announced that, Benz would provide all vehicle models' electric version in 2022, and planned to change all smart Car to electric vehicle model before 2020. Sep 2017, Volkswagen announced that, it would promote electric version of its all 300 vehicle models before 2030, and planned to invest EU 20bn to R&D electric vehicles and zero emission technology.
However, is global cobalt metal output enough to meet electric vehicle production plan announced by global vehicle enterprises?
Currently, electric vehicle mainly uses ternary material battery. Cathode material of this battery is NCM or NCA, among, role of cobalt is to increase cycling performance and rate performance.
US Geological Survey data shows that, cobalt metal production of the world was 123kt in 2016, among, Congo (Kinshasa) is main production country, totally produced 66kt cobalt and occupies almost 54%.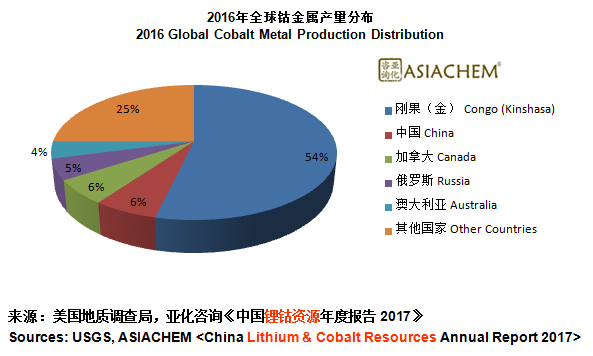 Cobalt production of Congo (Kinshasa) is leading by a few of manufacturers, among, Glencore, the largest cobalt manufacturer in the world, is included. Aug 2017, Glencore 2017 Semiannual Production Report shows that, the company totally produced 12.7kt in H1, 2017, which is same as last year.
ASIACHEM <China Lithium & Cobalt Resources Annual Report 2017> shows that, in 2016, 57.7% cobalt resource of the world is applied to battery field, among, power battery field occupies 42% of total cobalt resource consumption.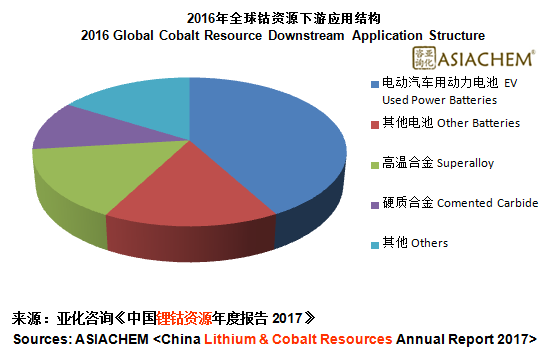 As supply and demand market inequality and political upheavals of Congo (Kinshasa), in recent years, cobalt metal and its products price greatly increased. Information shows that, price of cobalt metal increased more than 3 times in the past 2 years, and only in 2017, cobalt price rises more than 80%.
In Sep, Volkswagen issued a tender, seeking a minimum of five years of supply of cobalt at a fixed price. Although Volkswagen expressly declared that it would give subsides to suppliers, quoted price in the contract is far lower than current market price. As one of negotiation partners of the tender of Volkswagen, Glencore has declared it would never long-term sell cobalt price at current market price, other power battery raw material manufacturers also stated that they would not accept quoted price of Volkswagen.
According to US Geological Survey data, up to 2016, global cobalt reserves was 7Mt. Although in terms of output of 2016, cobalt can be exploited for about 57 years, this figure is far from enough to support EV production plans announced by vehicle enterprises, and it will soon become bottleneck restriction. German auto media Deraktionaer estimates that, only Volkswagen needs at least 80-130kt cobalt metal can it realize its latest announced electric vehicle production plan.
ASIACHEM <China LIB Cathode Material Annual Report 2017> research indicates that, in ternary material, the higher nickel content, the higher ternary material battery's energy density. ASIACHEM believes that, base on current NCM ternary material or NCA ternary material technology system, global cobalt resource volume is far from enough to support each country to ban the sale of gasoline and diesel vehicles and each vehicle enterprise's electric vehicle's capacity plan, to develop high nickel ternary material must be enforced.