ASIACHEM: How Much Li2CO3/LiOH Will China NEV Consume in 2025?
2017-11-03
Up to 2017, in the world, there are many countries, like France and Norway and so on, set up timetable to forbid the sale of oil-fueled vehicles. Besides, in period of C40 Cities Climate Summit, which is held in Paris, mayors come from London, Paris and Los Angeles etc. 12 large cities guaranteed to ban use of gasoline and diesel engine vehicles on major areas of theirs cities, and guaranteed to purchase zero-emission buses only from 2025, and gradually eliminate traditional gasoline / diesel powered buses.
CAAM data shows that, from Jan to Sep, 2017, China vehicle production and sales volume are 20.349M and 20.225M, respectively, year on year increase 4.8% and 4.5%, respectively; from Jan to Sep, 2017, China NEV production and sales volume are 424k and 398k, respectively; year on year increase 40.2% and 37.7%, respectively.
In Apr 2017, MIIT etc. released 'Vehicle Industry Mid and Long Term Development Plan'. The 'Plan' estimates that China vehicle output will reach around 30M in 2020 and 35M in 2025. Meanwhile, the 'Plan' points out, to 2020, NEV production and sales will reach 2M; to 2025, NEV will account for more than 20% in vehicle production and sales, which also means, in 2025, China NEV output will reach around 7M.
So, how much Li2CO3 / LiOH will these NEV consume in 2025?
China NEV mainly use ternary material batteries and LFP batteries. Recently, China publishes many policies to support development of batteries which have higher energy density, ternary material batteries have become market mainstream, also make ternary material enterprises and battery enterprises largely arrange ternary materials and ternary material batteries capacities. In Oct 2017, Guoxuan High-tech 30kt/a ternary material project laid foundation in Lujiang, Hefei; at the same month, AESC China headquarters and 20GWh/a ternary material battery production base settled in Zhenjiang; at the same month, BYD stated that, currently, all PHEV passenger used vehicles of the company have used ternary material batteries. In the future, the company plans that, all new vehicle models will use ternary material batteries, except public transportation field that will still use LFP batteries.
ASIACHEM estimates that, if all the NEV use NCM 523 batteries in 2025 and each NEV battery averages 60kWh, then, 7M NEV will need 66.9kt lithium. If all these lithium are provided by Li2CO3, then it needs 356.3kt Li2CO3; if all these lithium are provided by LiOH, then it needs 404.6kt LiOH.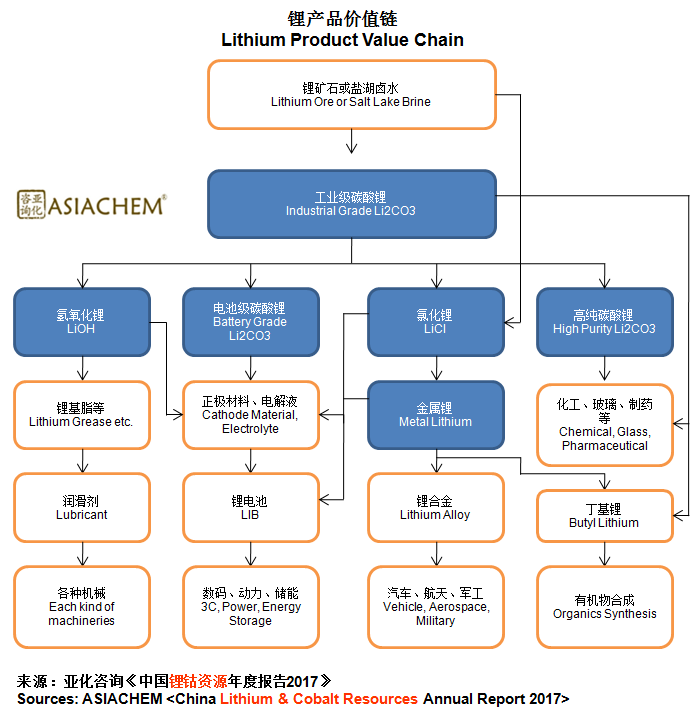 Are China lithium salts enough?
Public information shows that, China basic lithium salts (include Li2CO3, LiOH·H2O, LiCl) output converted into Li2CO3 (equivalent) was about 87.3kt in 2016. ASIACHEM <China Lithium & Cobalt Resources Annual Report 2017> data shows that, in 2025, if China current Li2CO3/LiOH·H2O/LiCl projects (include battery grade and industrial grade) all successfully put into operation, they can provide about 559.3kt/a capacity.
However, what worth our attention is, China industry shows situation of 'sitting on huge resources but severely relying on imported raw ore'.
USGS data shows that, global lithium ore proved reserves was 14.469Mt in 2016, among, China was 3.2Mt, which is second in the world after Chile (7.5Mt). Although it looks abundant, China hard rock type lithium ores are located in plateaus and traffic is inconvenience etc. reasons, mining scale is quite small; salt lake type lithium ores, on the other hand, mainly exist in Qinghai and Xizang etc. places that are high altitude, natural environment is harsh, basic facilities are poor and mining difficulty is huge. Information shows that, China lithium ore raw ore dependency is as high as more than 70%.