ASIACHEM: China 2017 Solid State LIB Latest Development
2017-12-18
Currently, China new energy vehicles mainly use LFP batteries and ternary material batteries. With increasing demands of energy density, ternary material batteries have become market mainstream. However, in Apr 2017, 'Vehicle Industry Mid and Long-term Development Plan', released by MIIT, pointed out that, to 2020, power battery monomer specific reaches above 300Wh/kg and strives to realize 350Wh/kg, system specific energy strives to reach 260Wh/kg; and to 2025, power battery system specific energy reaches 350Wh/kg.
ASIACHEM believes that, power battery monomer specific energy's targets of year 2020 proposed by MIIT can be realized by current lithium-ion battery technologies. If they want to reach targets of higher energy density, new battery technologies need to be considered and solid state LIB will become an important development direction.
Solid-state lithium battery is a battery which use solid-state electrolyte. In terms of structure, solid-state lithium battery is simpler than traditional lithium ion battery. Solid-state electrolyte not only conducts lithium ions, but also plays as role of separator. In hence, in solid-state lithium battery, electrolyte, separator and PVDF, the adhesive, are no longer needed. In terms of principle of operation, solid-state lithium battery is similar with lithium ion batteries. When charging, lithium ions in cathode materials are removed from crystal lattices of active materials, and transfer to anode materials through solid-state electrolyte, while electrons transfer through external circuit. Both the lithium ions and the electrons will combine into lithium atoms, alloying or insect into anode materials. Process of discharging is opposite to process of charging. At this time, the electrons will drive the electronic devices through external circuit.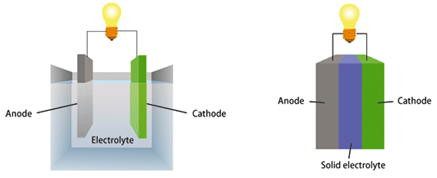 Lithium-ion Battery and Solid-state LIB Comparison
Latest Development
Shenzhen Jiawei Photovoltaic Lighting
Dec 2017, Shenzhen Jiawei Photovoltaic Lighting released announcement, power LIB and pack project, which is responsible for construction by Jiawei Longneng Solid State Energy Storage Technology Rugao Co., holding company of the company, in Rugao Economic and Technological Development Zone, has finished installation and debugging of devices. Currently, Project Phase-1 fast charging LIB production line put into operation.
The project total capacity size is 2.1GWh, among, Phase-1, which has operation, capacity size is 0.1GWh, mainly have fast charging nanocomposite LTO LIB, fast charging new type nanocomposite LFP LIB, fast charging nano high nickel composite material LIB and high energy density LIB etc. 4 types and will mainly apply to NEV and energy storage field.
Aiming at project Phase-2, Jiawei Longneng has signed 'Jiawei Longneng High-end Secondary LIB and Core Project 3 Parties Co-Construction Contract' with other 2 parties. Project fixed assets total investment is CNY 380M.
BMW
News reported in Dec 2017, BWM would joint R&D next generation solid state battery technology with US battery company Solid Power and apply it to EV.
Both parties' specific cooperation capital have not revealed yet.
Zhejiang Zhongtian Technology
News reported in Dec 2017, Zhejiang Zhongtian Technologies is actively R&D all solid state lithium ion batteries.
Ganfeng Lithium
Dec 2017, Ganfeng Lithium released announcement, the company plans to set up Zhejiang Fengli, and plans to use no more than CNY 250M self owned capital to invest and construct first generation solid state LIB R&D pilot production line. According to the announcement, the project locates in Ningbo, Zhejiang and construction period is 2 years.
Besides, the company plans to base on related laws and company actual condition of business development, set up and implement this project's examine and reward scheme. The examine is divided into 3 phases, each phase examine index is as below.
Period

Examine Index

Jun 60, 2018

Ø First generation solid state LIB technique index reaches: monomer capacity 10Ah, energy density no lower than 240Wh/kg, 1000 times cycle capacity maintenance rate is bigger than 90%, battery monomer has 5C rate's charge / discharge ability;

Ø Battery R&D product passes 3rd party agent security detection;

Dec 31, 2018

Ø Produce first generation solid state LIB series core which monomer capacity is bigger than 30Ah, comprehensive characteristics index reaches R&D product level;

Ø Annual produce 100MWh level first generation LIB R&D and pilot production line construction and operation, stable operating, reaches designed capacity;

Ø Realizes sending samples to 2 and above clients;

Dec 31, 2019

Ø First generation solid state sales volume exceeds CNY 300M, deducts fixed assets depreciation and R&D expenses, the subsidiary realizes break even;

Ø 2nd generation solid state LIB technique index reaches: energy density now less than 300Wh/kg; comprehensive characteristics index reaches international leading level;

Ø Preliminary completes 3rd generation solid state's feasible pre research work.
Pingmei National Battery LIB
Dec 2017, Henan Yicheng New Energy released Henan Pingmei National Battery LIB, holding company of the company, 1GWh/a high safety high specific energy power LIB project feasibility study report.
Report shows that, the project locates in Henan Xinxiang, plans to total invest CNY 5bn, and will be construction by 2 phases. Among, Phase-1 capacity is 1GWh/a soft packaging, mainly produce 27Ah soft packaging standard module special used for current passenger used vehicles and 30-50Ah superlattice soft packaging module. The project plans to start construction at the end of 2017 and plans to test run at the end of 2018; Phase-2 will accord to transformation situation of achievements in scientific research, planned capacity 9GWh, mainly produces 30-50Ah superlattice soft packaging module and all solid state battery, plans to start construction in Oct 2019, after Phase-1 stable production.
Fisker
Nov 2017, Fisker, electric vehicle manufacturer locates in California, US and subsidiary company of China Wanxiang Group, handed in a patent of solid state battery. It is reported that, the battery uses 3D electrode which makes driving mileage of the electric vehicle reach more than 500 miles, charging time, on the other hand, is only 1 minute. It is estimated by Fisker that, mass production and application of this technology in vehicle fields need to wait after 2023.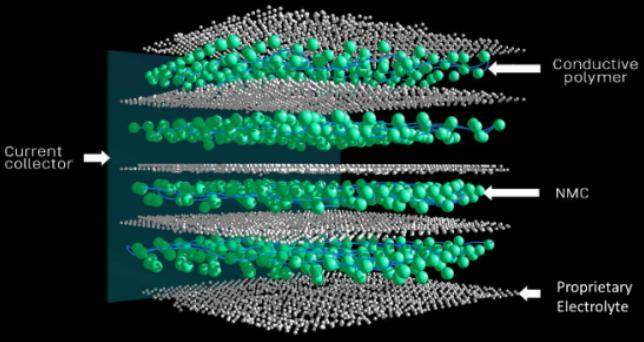 Japan Hitachi
Aug 2017, researchers of Japan Hitachi announced that, its solid-state battery technology has finished R&D. Relevant staff of Hitachi revealed that, Hitachi has sent the sample of solid-state battery to potential clients in aerospace and vehicle industries currently. What is more, Hitachi is now cooperating with an undisclosed Japanese battery manufacturer to improve some details' problems, and will launch its solid-state battery in the market before 2020.
Japan Toyota
Jun 2017, a solid-state battery patent application submitted by Toyota to the United States which No. is 20170179545, was publicized. ASIACHEM research indicates that, this solid-state battery is constituted by sulfide solid electrolyte material and electrode active material. Among, constitute of the electrolyte material includes lithium, phosphorous, sulfur and iodine etc. 4 elements; cathode material includes a phosphate ester. This kind of phosphate in the cathode material is in the range of 1% to 30% by weight. By adding phosphate ester into the cathode material, thermal stability of this solid-state battery is improved. Jul, 2017, Toyota stated that, it plans to start selling EV which power is supplied by all-solid-state battery from 2022.
Tianjin Xindongyuan
Jan 2017, Nanjing High-tech Zone signed framework cooperation agreement with Tianjin Xindongyuan Technology Development. According to the agreement, Tianjin Xindongyuan will total invest CNY 3bn, to realize industrialization of high specific capacity solid state LIB in the next two years and estimate to reach 10GWh capacity after 5 years.
ASIACHEM believes that, currently, solid-state lithium battery exist overhigh interface impedance between solid-state electrolyte and cathode / anode material, solid-state electrolyte conductivity is relatively low, and material preparation cost is expensive etc. problems, which make solid-state lithium battery hard to replace LIB application in new energy vehicles. However, considering market to lithium batteries' energy density and safety performance requirements' continue increasing, development prospect of solid-state lithium battery is worth expecting.