ASIACHEM: LIB Separator Tycoon SEMCORP Takes the Initiative to Reduce 20% Products' Price, Industry Competition Intensified
2018-01-22
Jan 10, 2018, Yunnan Chuangxin New Material stated on Investor Relations that, currently, SEMCORP Shanghai new production line speed is more than 60m/min, maximum separator output is 120Mm2/a, and available to promise can reach 90Mm2. SEMCORP Shanghai currently has locked the quantity and price, changes are mainly caused by production structure reason (proportion of coated separator and base separator) and regional sales structure (oversea sales volume will exceed expectations), as procurement scale and bargaining power of clients are different, in 2018, sales volume of products of SEMCORP Shanghai has been locked (about 60-70% of capacity of the company). What is more, the company takes the initiative to reduce around 20% average price of the products, which will directly lead the industry competition intensified.
Besides, the company stated that, oil-based PVDF and coated separator product (which performance is one-time coating pottery, both sides coating PVDF and exclusion), which is mainly applied to soft-packaging battery, which is independently R&D by SEMCORP Shanghai in 2017, currently, in the world, only SEMCORP Shanghai, LG and a company from Japan can produce it. In 2018, this kind of product will be largely applied and market requirement is quite big. Currently, ATL, Panasonic have asked SEMCORP Shanghai to sample this product.
With increasing improvement of LIB separator product technology, more and more enterprises enter LIB separator field. ASIACHEM <China LIB Separator Annual Report 2018> data shows that, in 2017, China LIB output is about 88.7GWh, YOY increase 29.3%; LIB separator requirement is about 1.774bnm2, and estimates to be 2.128bnm2 in 2018. Meanwhile, in 2017 and 2018, China LIB separator capacity is 3.451bnm2/a and 5.186bnm2/a, respectively. From the pic below, it can be clearly seen that, China LIB separator capacity utilization rate is continuing decreasing.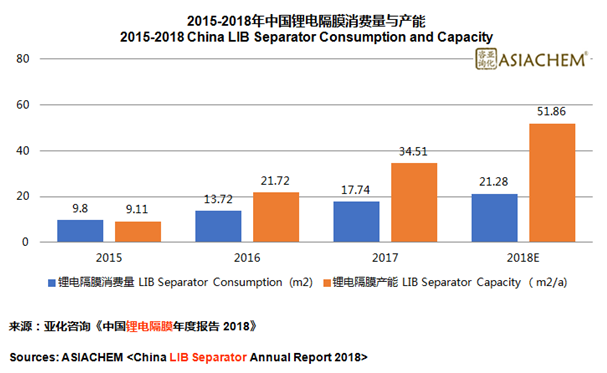 In LIB four key materials, why LIB separator industry has the highest price reduction pressure?
Apr 2017, MIIT etc. released <Vehicle Industry Mid and Long Term Development Plan>, which pointed out, to 2020, monomer power battery cost reduce to below CNY 1/Wh. ASIACHEM research indicates that, currently, shortage of lithium and cobalt resources makes their prices greatly increase, and also makes cathode material price increase; influenced by environmental protection and graphite mine insufficient commencement rate, graphite anode material price temporarily increases; although LIB electrolyte price drops as greatly decrease of price of LiPF6, cost of electrolyte only occupies about 5% of LIB cost, and LIB to electrolyte's price sensitivity is not that high. In hence, LIB separator becomes the field that price reduction pressure is the highest.
However, it is noteworthy that, for a long time, China LIB separator exists situation of high-end separator under-capacity and low-end separator over-capacity, which also leads although China has so huge LIB separator capacity in recent years, ASIACHEM <China LIB Separator Annual Report 2018> data shows that, in 2016 and 2017, China has 288Mm2 and 339Mm2 LIB separator come from import.
ASIACHEM believes that, LIB separator industry cold winter is about to come. To industry tycoon enterprises, they can defeat the strike by reducing cost and sales price through scale production; to small companies, in order not be eliminated by industry, they need to strengthen themselves' R&D ability, increase product yield and enter large scale battery enterprises procurement systems as soon as possible. Those enterprises which have capitals only, and not pay attention to R&D, will definitely be eliminated by market.