ASIACHEM: LIB Energy Density Will Reach 500Wh/kg, What Key Materials Should Do to Meet the Requirement?
2018-04-23
Currently, many countries of the world one after another make R&D target of high energy density LIB. Japanese Government proposed that, in 2020, power battery core energy density would reach 250Wh/kg and 500Wh/kg in 2030. USABC proposed that, to increase core energy density in 2020 from 220Wh/kg to 350Wh/kg; State Council of PRC <Made in China 2025> proposed that, China monomer power battery specific energy should reach 300Wh/kg to 2020, and reach 400Wh/kg in 2025, 500Wh/kg in 2030.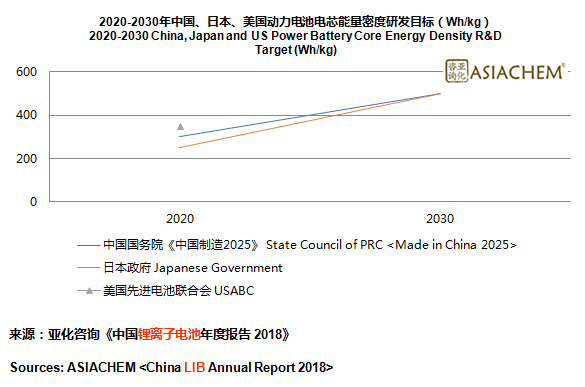 Feb 2018, MOF released <Inform on Adjusting & Perfecting NEV Promotion & Application Subsidy Policy> and pointed out that will further increase NEV power battery system energy density threshold requirement according to power battery technology progress.
With increase of requirement of LIB density and safety performance, LIB and materials enterprises are strengthening R&D of high energy density and high safety batteries and materials system.
Apr 2018, Beijing Easpring 2017 Annual Report shows that, in the report period, Jiangsu Easpring Phase-2 Stage-2 successfully construction and operation and new increased 4000t high nickel multi-component materials' capacity. The company has started Jiangsu Easpring Phase-3, which will provide the company with 18kt new increased high nickel cathode material capacity.
Mar 2018, Ganfeng Lithium stated that, solid-state battery has been regarded as next generation battery technology in application of electric vehicle as it can lengthen driving mileage, accelerate charging, and improve safety. The company is now under solid-state battery widely testing work, and set up a R&D center and a trial production line in Zhejiang Ningbo to accelerate commercialization of solid-state LIB technology of the company. At present, solid-state LIB of the company is still under testing stage, but it has passed many 3rd parties' safety test.
Jan 2018, Zhengtuo Energy Technology man in charge revealed that, the company 3000t silicon carbon anode material project realized batched production in Aug 2017, at first, the company mainly promoted 420mAh/g and 450mAh/g 2 models, and currently it is under sample test and small-batched supply phase.
Jan 2018, Yunnan Chuangxin stated in Investor Relations that, Shanghai SEMCORP self R&D, mainly applies to soft-packaging batteries' oil-based PVDF and coated separator products (which performance is one-time coating pottery, both sides coating PVDF and exclusion), currently it can only be produced by Shanghai SEMCORP, LG and a company from Japan in the world. This kind of product is estimated to large-scale application in 2018 and market requirement will be huge. Currently, ATL and Panasonic have asked Shanghai SEMCORP to sample this product.
Aug 2017, Tinci Materials stated that, the company estimated to have 300t LiFSI new type lithium salts capacity at the end of 2017. Besides, the company set up plan to new build 2000t/a new type lithium salts capacity in 2017.
ASIACHEM <China LIB Annual Report 2018> believes that, in general, China LIB materials exist situation of insufficient high-end capacity and excess low-end capacity. If materials enterprises want to meet LIB continuous increasing performance and quality requirement, on one hand, they should strengthen R&D of new technology and new system and connect with LIB enterprises; on the other hand, they should grasp the opportunity, invest and construct high-end capacity, so that they can dominate more market shares in the future.
Meanwhile, it is important to note that, these enterprises may face existence crises if they do not make judgment or effective response to market changes. In fact, even LIB material tycoons may face profit going down, or even huge compensation.
Oct 2016, Victory Precision contributed CNY 486M and acquired 33.77% share of Suzhou Jieli, a LIB separator enterprise, and after acquisition is done, the company holds 84.77% share of Suzhou Jieli. PENG Liqun, man in charge of Suzhou Jieli, guaranteed that: net profits of Suzhou Jieli in 2016, 2017 and 2018 would no less than CNY 130M, CNY 169M and CNY 219.7M, respectively.
However, public information shows that, in 2016, net profit of Suzhou Jieli in 2016 was CNY 60M. It has to compensate Victory Precision for CNY 148M as its key performance indicator was not achieved; in 2017, although its output reached 162Mm2, YOY doubled, and sales volume reached 116Mm2, YOY increased 53.21%, its storage reached 72Mm2, YOY increased 177.65%, and which also made its net profit CNY -12.1913M, and the key performance indicator unachieved again. According to announcement of Victory Precision, compensation amount that Suzhou Jieli needs to pay is CNY 383M.