ASIACHEM: How Many Capacities Do China Enterprises Layout in Europe?
2018-07-11
Jul 9, 2018, CATL and Germany Thuringia Government signed an investment agreement. According to the agreement, CATL will invest EU 240M (about CNY 1.87bn) to set up a battery production base and an intelligent manufacturing technology R&D center in Erfurt. Among, the production base mainly engages in R&D and production of LIB, and it will be construction by 2 phases and plans to put into operation in 2021, and will form 14GWh/a capacity after reaching designed capacity in 2022.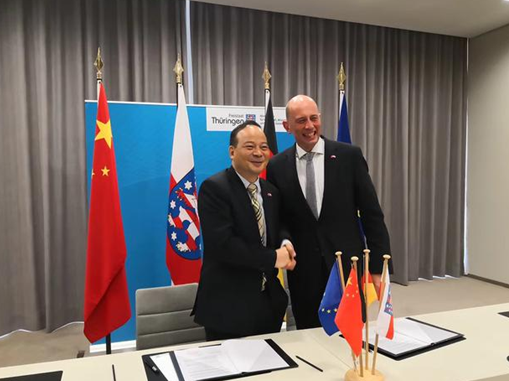 ASIACHEM information shows that, except CATL, China has many LIB upstream and downstream enterprises distribute capacities in Europe.
Guoxuan High-tech
May 2017, Guoxuan High-tech released the 2017 Rights Issue and Public Offer Securities Scheme. Among, the abroad parts of the Engineering Research Institute Project would be implemented by the US Guoxuan, using CNY 300.013M self owned capital to invest and construct and perfect US Silicon Valley BMS Research Institute, Japan Material Research Institute and Europe Electric Engine and Electric Control Research Institute.
Shenzhen Senior
Dec 2017, Shenzhen Senior joint set up Senior – Famous New Material (Europe) Co. Ltd. with German Famous Industrial Group and German Chamber of Industry and Commerce, aiming at promote Chinese LIB separator products to European markets.
Jiangsu Guotai
Dec 2017, Jiangsu Guotai released announcement, the company plans to implement 40kt/a LIB electrolyte project in Poland. The project total investment is CNY 300M, Ruitai New Energy, wholly owned subsidiary company of the company, and Guotai Huarong, holding company of the company, will contribute 50%, respectively, to set up an investment company in Poland. Project construction period is about 30 months.
Capchem
Jun 2018, Shenzhen Capchem released announcement, the company agrees to set Capchem (Poland) Co. Ltd. Sp.z.o.o. as the implementing subject, to invest and construct 40000t/a LIB electrolyte, 5000t/a NMP and 5000t/a conductive paste project. The project estimates total investment is CNY 360M.
BYD
Jun 2018, BYD stated that it signed UK 18MW container energy storage project, and this project is BYD third order in UK market after 43MW and 50MW energy storage projects. Besides, public information shows that, BYD is preparing to select location in Europe, to construct battery factory.
According to <Vehicle Industry Mid and Long Term Development Plan> released by MIIT in Apr 2017, as well as <3-Year Plan on Defending the Blue Sky> released by the State Council in Jun 2018, in 2020, China NEV production and sales volume will reach 2M. ASIACHEM <China LIB Annual Report 2018> calculated that, China 2020 power battery requirement will be 120GWh, however, according to 4 batches <Vehicle Power Battery Industry Normality Condition>, these 57 enterprises power battery 2020 capacity planning reaches 377.1GWh/a, overcapacity problem is serious.
ASIACHEM believes that, China LIB industry distributes capacity in Europe states that, China LIB and related materials technology and manufacturing level has already become world first class. Besides, it has 3 meanings as below:
1. Since Oct 2017, Holland, Norway, UK, France and Germany etc. European countries proposed oil-fueled vehicle banned selling timetables one after another. Base on this, BMW and Volkswagen etc. traditional energy vehicle manufacturers actively transition to new energy vehicles. China LIB and related materials distributions in Europe are good for opening European markets;
2. By distribution in Europe, China LIB and materials enterprises can be closer to clients of Europe, provide more in time and effectively production solution and response client requirement faster. What is more, they can use local talents and technologies and obtain further breakthrough of their products.
3. China LIB industrial chain capacity distribution in Europe, export from Europe to the USA can effectively avoid influences brought by China and the US trade conflicts.