ASIACHEM: China Power Battery Industry Top 5 Shipment Occupies 80%, Tier-2 Enterprises Will Be Out?
2018-08-16
China new energy vehicle (NEV) recently developed fast. CAAM data shows that, in H1, 2018, China NEV production and sales volume completed 413k and 412k, respectively, YOY increase 94.9% and 111.5%, respectively.
At the same time, China power battery structural overcapacity is significant. ASIACHEM <China LIB Annual Report 2018> research indicates that, in 2017, China power battery capacity exceeded 195GWh/a, while power battery consumption was only 35GWh. What is more, power battery installed capacity also shows the situation of highly concentration. Public information shows that, in 2018H1, China power battery accumulated shipments were 15.6GWh, among, shipments of Top 2 in ranking, which are CATL and BYD, reached 10GWh, occupations were closed to 65%; No. 3-5 in ranking were Guoxuan High-tech, Farasis Energy and EVE Energy. Top 5 in the industry market occupations were closed to 80%.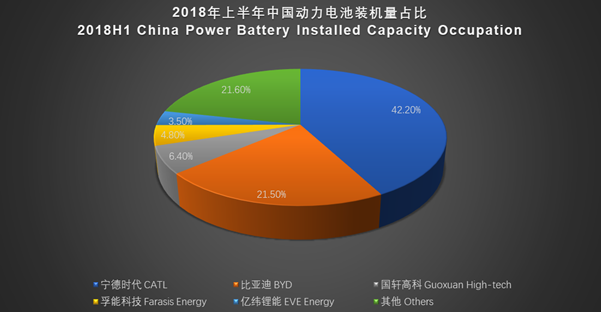 Besides, data shows that, among 100 listed enterprises in LIB block, there are 42 of them operating cash flows are negative. Among, J&R Optimum Energy and Dynavolt etc. even cannot realize daily running because of cash flow shortages.
NEV new subsidy standards started implementation in Jun 2018. ASIACHEM research indicates that, compare with subsidies in 2017, the one in 2018 give higher subsidies to those batteries which have higher energy density. However, in general, NEV subsidies greatly decrease. Take pure electric passenger-used vehicle as an example, comparison of subsidies between 2018 and 2017 is as table shown below:

At the same time, in recent years, Japan and South Korea power battery industrial chain enterprises enlarge investments in China, these enterprises either choose to construct power battery factories, or choose to joint venture with those top enterprises in China LIB industrial chains, to distribute related capacities in China.
Before, in May 2018, CAAM and China Vehicle Power Battery Industry Innovation Alliance <Vehicle Power Battery and Hydrogen Fuel Cell Industry White List> (Batch-1) publicized. Among, Samsung SDI – ARN (Xi'an) Power Battery Co., LG Chem Nanjing New Energy Battery Co. and Beijing Electronics Holding & SK Technology Co. were selected.
ASIACHEM <China LIB Annual Report 2018> shows that, from 2017 to 2018, South Korea and Japan LIB industrial chain enterprises in China's distributions are as below: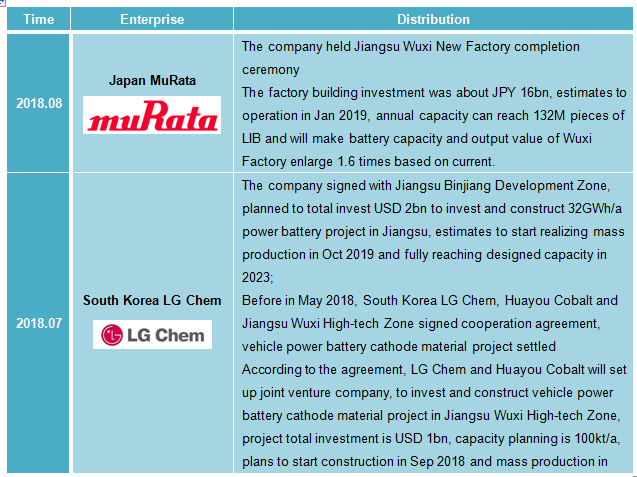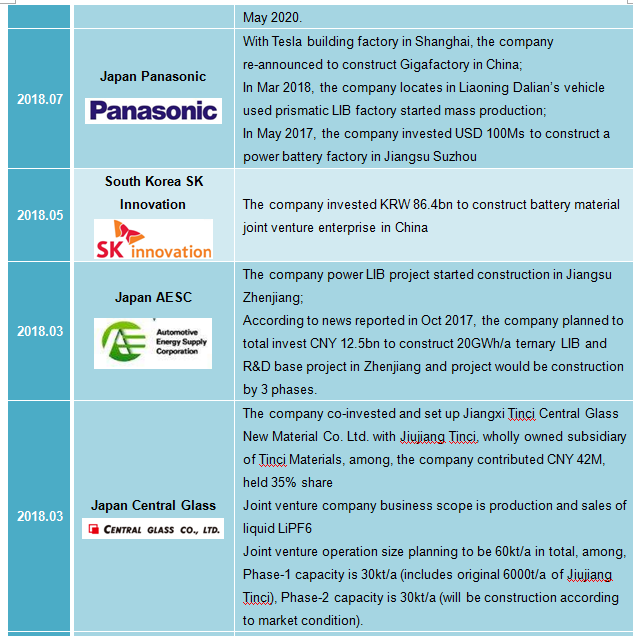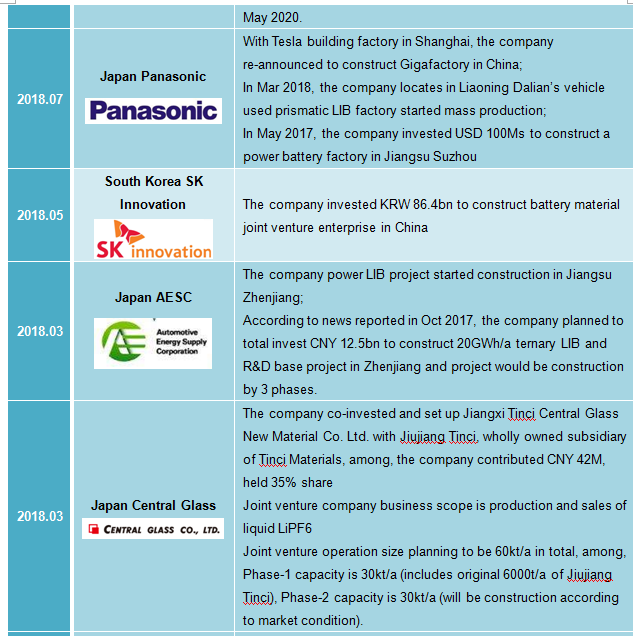 ASIACHEM research indicates that, from 2018, listed companies stopped or gave up merging power battery enterprises, power battery enterprises changed / gave up related investment projects happened frequently. Besides, planning capacities of enterprises were not starting business as schedule, even though those capacities which started construction, operating rates are not high.
ASIACHEM believes that, China power battery situation of oligopoly is forming, China LIB industrial chain will begin a new round of shuffling. In the future, with China power battery energy density requirement's further increase, NEV subsidies' further decreasing, or even cancel, those enterprises which do not pay attention to supported capacity construction and technical R&D, and blind expansion, will be eliminated.