Expert of China University of Petroleum (Beijing) will deliver a presentation on ASIACHEM's 2017 Alkylate Conference
2017-07-06
The successive implementation of CN-V and CN-VI gasoline standards is greatly stimulating the alkylate demand. According to ASIACHEM's prediction, the national CN-V gasoline and alkylate demands in 2017 will be 130Mt and 7.8Mt, while China's CN-VI gasoline and alkylate demands in 2019 will be 150 Mt and 12-15 Mt, respectively.
ASIACHEM's statistics shows that, the alkylation capacity in China is more than 71Mt/a. Most of the current alkylation units adopt traditional liquid acid processes (sulphuric acid or hydrofluoric acid as catalysts), which face a series of major problems such as serious equipment corrosion, potential environmental pollution and human body damage, etc.
China University of Petroleum (Beijing) successfully developed composite ionic liquid alkylation (CILA) process, which can produce alkylate with higher quality under conditions of lower alkane olefin ratio in raw material, mild reaction temperature and shorter reaction time, and the investments for equipment, safety precaution and environmental protection treatment are lower. The waste catalyst amount produced by CILA process can be reduced by over 90% than that of sulfuric acid alkylation. The corrosivity and toxicity of CIL are much lower than those of sulfuric acid, which can successfully overcome the disadvantages existing in traditional liquid acid alkylation processes, such as serious equipment corrosion, potential environmental pollution and human body damage, etc.
The first industrial plant with capacity of 120kt/a has been commissioned in Shandong Deyang Chemical Co Ltd and stably operated for more than 3 years. Industrial operation results show that the olefin conversion rate is 100%, the octane number of alkylate is over 97, catalyst equivalent consumption for one ton alkylate is 5kg, and the ton alkylate energy consumption is 157kg standard oil/ton alkylate.
In order to satisfy increasingly stringent environmental requirements and to fully achieve CN-VI gasoline upgrading, Jiujiang Petrochemical plans to build the 300kt/a alkylation unit by using CILA technology. On Feb 27th, Jiujiang Petrochemical, SEI, China University of Petroleum (Beijing) and Beijing Zhongshi Aojie Petroleum Technology Co Ltd jointly held the 300kt/a alkylation project promotion conference, signed "CILA Technology Engineering Scale-up & Process Package Joint Development Agreement", and reach a consensus over deep optimization & upgrading issues such as accelerating the engineering of CILA technology. Feasibility study of the project was approved in Apr 2017, the demolition & construction of project was started on Jun 23rd, and the hand-over time of the project is planned to be in 2018.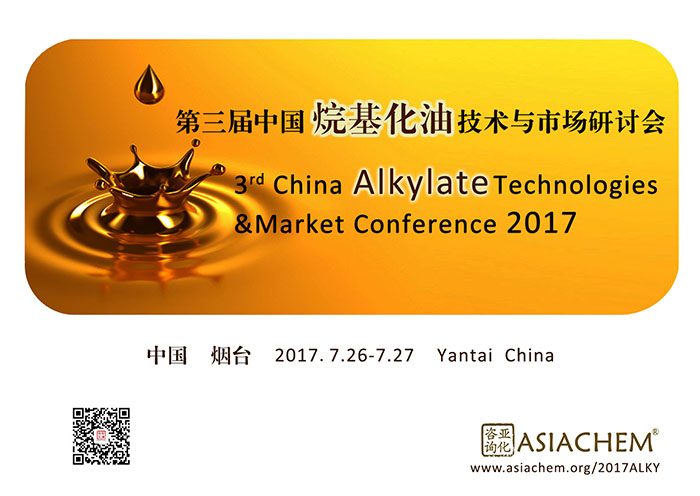 The 3rd China Alkylate Technologies & Market Conference will organized by ASIACHEM on Jul 26-27 2017 in Yantai. Expert of China University of Petroleum (Beijing) will deliver a presentation.