Global and China's Linear Alpha-olefins Market Status and Trends
2017-10-16
Alpha Olefins Market & Tech Conference 2017 will be held in Guiyang on Nov. 24th.

The leadership of China National Petroleum & Chemical Planning Institute will attend the conference and give an important speech.

Introduce the global and China's linear alpha-olefins market status & trends, etc.

Linear alpha-olefins (LAO) generally refers to C4+ linear olefins with double bond at the end position. As an important organic raw material, LAO made a very rapid development in recent years. LAO has a wide range of applications, as well as high value-added products. In 2016, the global total consumption of LAO is 5.4Mt. Among, North America accounted for nearly 35%, followed by the Western Europe (19%), Middle East (15%), and China (14%).

LAO applications mainly in the following aspects:
Comonomer. 1-butene, 1-hexene and 1-octene widely used in the production of LLDPE, HDPE and POE as comonomer. 1-butene can also be copolymerized with ethylene and propylene to prepare propylene/ethylene/butylene ternary random PE, and copolymerized with propylene to prepare butene copolymerized PP;




Used in the production of detergents and detergent alcohols. The detergent alcohol which produced from LAO has a good biodegradability;




Synthetic lubricants. Poly-α-olefins (PAO) is high-quality synthetic lubricants, which are mainly oligomers of 1-decene and 1-octene;




Plasticizer. plasticizer alcohol produced from C8-C10 LAO by carbonyl synthesis has advantages of low volatility, good light stability and oxidation resistance;




For the production of lubricants additives, drilling fluids, adhesives, sealants, etc.

Comonomer is one of the most important applications of LAO, accounting for more than 50% of LAO consumption. The growth demand for PE will continue to be the main driving force for the development of LAO market. Under the background of the US shale gas revolution, China coal chemical and petrochemical industry booming to drive the PE industry, as well as the development of high-end lubricants market, LAO demand will grow steadily. North America and China will lead the growth of global consumption, it is predicted that the total global demand for LAO in 2020 will reach 6.3Mt.

At present, China's LAO capacity is seriously inadequate, the 1-hexene capacity of only 55kt/a, 1-octene production is still in the blank, the products mainly rely on imports. The Petrochemical industry "13FYP" development guidelines clearly require to speed up the research work of 1-hexene, 1-octene and other high-carbon LAO comonomer to promote the industrialization of high-performance polyolefin. At the same time, with the support of national policy, China's high-performance lubricants production key technology will be a breakthrough in the next few years, also will drive the growth of demand for LAO.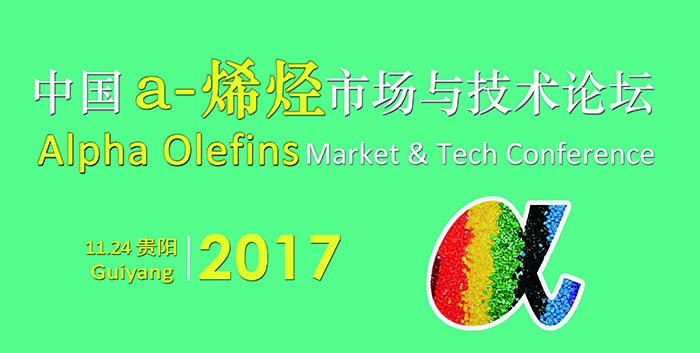 Alpha Olefins Market & Tech Conference 2017 will be held on Nov. 24 in Guiyang, China. Industrial people will discuss a-olefins market, production technologies, a-olefins downstream application; a-olefins projects investments; a-olefins key technologies; and also arrange an industrial visit.