Little lever moves big target!Small products driven high-value development of polyolefin and CTL industries
2017-10-31
Alpha-olefins (1-butene, 1-hexene, 1-octene, etc.) are important comonomers for the production of high performance HDPE and LLDPE, also important feedstock for the production of advanced lubricants, plasticizers, surfactants and other fine chemicals.
High-end development, import substitution is the important direction for polyolefin industry upgrading during "13FYP"

Industry tends to use 1-hexene, 1-octene instead of 1-butene as comonomer

In recent years, several 1-hexene plants have been put into operation, but the gap between supply and demand is still big

Accelerating the development and industrialization of α-olefin technology is the key way to promote the development of high-end industry
----Domestic production of α-olefin enhance the quality and competitiveness of chemical products
The main production methods of α-olefin include wax cracking, alkane dehydrogenation, ethylene oligomerization, extraction and separation, etc. Among, ethylene oligomerization is the most important production method, technology owner include Chevron Philllips Chemical (CPChem), Ethyl, Shell, BP Amoco and Idemitsu, etc. The total a-olefin production of CPChem, Shell, BP Amoco accounted for about 75% of global output. Sasol also one of the important α-olefin producers who is engaged in indirect liquefaction of coal.
The industrialization process of α-olefin is slow in China, the capacity is still insufficient. Only Sinopec Yanshan Petrochemical and PetroChina Dushanzi Petrochemical built a set of 50kt/a and 20kt/a of industrial 1-hexene production plant, respectively. Two sets of devices were used Yanshan Petrochemical and Petrochemical Research Institute Daqing Chemical Research Center of self-developed ethylene oligomerization synthesis of 1-hexene technology.
The operation of two sets of equipment alleviate the shortage of domestic 1-hexene, and provide a feedstock protection to further optimize the high-end chemical products such as PE, which is conducive to improving the grade of PE products and market competitiveness. At present, PetroChina use 1-hexene as a monomer to produce dozens of high value-added PE products such as chrome, metallocene, Z-N, etc. The product performance is equivalent to that of foreign similar products.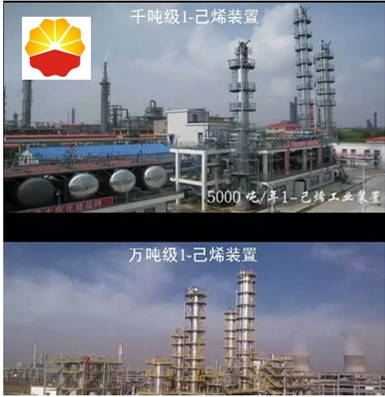 China 1-octene production is still in the blank, the product mainly rely on imports, the annual import volume is around 40kt/a. In December 2016, Maoming Petrochemical planned to build an 1-octene plant with annual capacity of 16kt, which will be the first set of 1-octene plant in China. The design capacity of 1-octene and 1-hexene is 10kt and 6kt, respectively. The device is planned to be completed in 2017 and will be used to boost the domestic polyolefin industry upgrading and the development of advanced synthetic lubricants. The production technology is jointly developed by Maoming Petrochemical and cooperative units.
The Fischer-Tropsch synthesis method for indirect liquefaction of coal is also an important way to produce a-olefins. Therefore, under the background of low oil price, and high fuel taxes, the domestic indirect CTL plants to develop α-olefin products, can greatly enhance the efficiency of the projects.
----High-end development of chemical products to promote the growing demand for α-olefins
At present, the industry tends to use 1-hexene, 1-octene instead of 1-butene as comonomer. In recent years, the rapid development of metallocene PE, which abandoned 1-butene, only use 1-hexene and 1-octene as comonomer, and developed PE products with higher monomer content and better performance.
Due to the serious shortage of domestic 1-hexene and 1-octene comonomer, which long-term dependence on high-priced imports, seriously affected the Chinese PE products upgrading. HDPE and LLDPE production units are still mainly use 1-butene as comonomer. Resulting in low quality and unreasonable structure of PE products, also with the problem of shortage of special grades, etc. Although in recent years there are several 1-hexene plants put into operation, the gap between supply and demand is still big.
With the promotion of chemical products of high-end competitive strategy, the downstream conversion production process will cause increase demand for 1-hexene, 1-octene. The Petrochemical industry "13FYP" development guidelines clearly require to speed up the research work of 1-hexene, 1-octene and other high-carbon LAO comonomer to promote the industrialization of high-performance polyolefin.
ASIACHEM believes that accelerating the development and industrialization of α-olefin technology will not only improve the overall level of the PE industry, promote the high-value development of industries, but also has important meanings for the domestic indirect CTL products high-end development, which will also bring opportunities for the technology, equipment and other suppliers.
Alpha Olefins Market & Tech Conference 2017 will be held in Guiyang on Nov. 24th. As the world's first professional conference in the field of a-olefins, top experts will be invited to share their insights.
The schedule is as follows:
1.Global and China α-olefin market status and trends —— China National Petroleum & Chemical Planning Institute
2.Demand of α-olefin for coal to polyolefins —— Shenhua Group
3.Alpha olefins technologies developed by Sinopec Beijing Chemical Industry Research Institute —— Sinopec Beijing Chemical Industry Research Institute
4.Industrial practice of α-olefin and fine chemicals synthesis by coal based raw materials —— Inner Mongolia Yitai Group
5.International polyolefin pattern change and α-olefin capacity transfer —— Sinopec Economic & Development Research Institute
6.CNPC α-olefin technology development —— CNPC Daqing Chemical Research Center
7.Take the characteristics of coal chemical with Fischer-Tropsch synthesis technology as the core —— Shaanxi Future Energy & Chemical Company
8.Progress in preparation of PAO use coal based α-Olefin as feedstock —— Shanghai Advanced Research Institute, Chinese Academy of Sciences
9.Technology development and industrial practice of 2-butene bi-isomerization to produce 1-butene —— Sinopec Shanghai Research Institute of Petrochemical Technology