China C4 industry shuffle! Where is the Exit of MTBE and Isobutylene in the Ethanol Gasoline Era?
2018-07-09
• China will fully promote ethanol gasoline, and the C4 industry will experience an unprecedented impact, and the industrial chain transformation is imminent.
• 2nd C4&C5 High-value Utilization Conference 2018 will be held on August 23-24 in Qingdao. The high value-added utilization direction and technology of MTBE and isobutylene will be one of the focuses.
The C4 industry will experience an unprecedented impact. In Sept. 2017, the 15 ministries and commissions issued the "Implementation Plan for Expanding the Production of Biofuel Ethanol and Promoting the Use of Ethanol Gasoline for Vehicles". The plan stipulates that the full coverage of ethanol gasoline will be promoted in 2020, and oxygen organic compounds should not be artificially added to ethanol gasoline for vehicles, which means that components such as methyl tert-butyl ether (MTBE), etherified light gasoline, etc. will not be used as a gasoline blending component.
By the end of 2017, China's MTBE production enterprises totaled more than 200, with a capacity of 20Mt/a, which is the largest downstream product of isobutylene in the C4 industrial chain. In 2017, MTBE production was about 11.66Mt, and the operating rate was 58%; apparent consumption was 11.79Mt, up 2.8% YoY. At present, MTBE consumption is mainly based on oil adjustment. In 2017, the amount used for oil adjustment accounted for 95% of total consumption, and chemical use accounted for only 5%.
According to incomplete statistics, in 2017, China's gas separation etherification MTBE capacity totaled 10.43Mt/a, accounting for 57% of total capacity; the isomerization etherification capacity totaled 3.41Mt/a, accounting for 19%; total dehydrogenation etherification capacity of 2.92Mt/a, accounting for 16%; co-oxidation (PO/MTBE) capacity of 1.5Mt/a, accounting for 8%. That is to say, in the MTBE production process, about 92% MTBE is required to pass through the intermediate product isobutylene.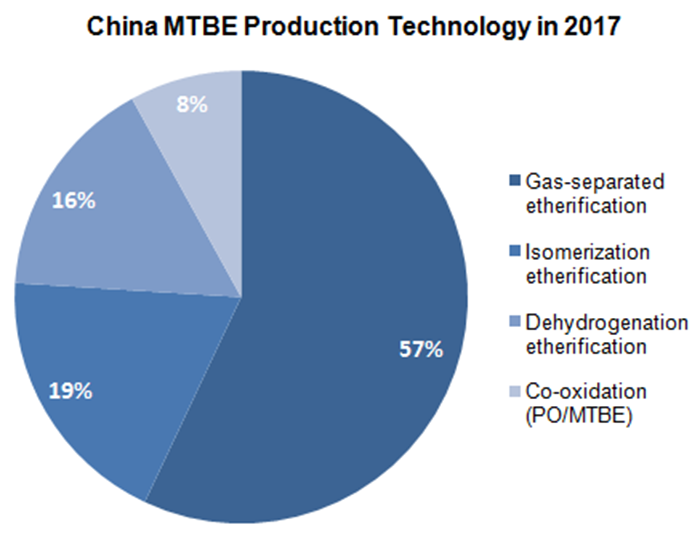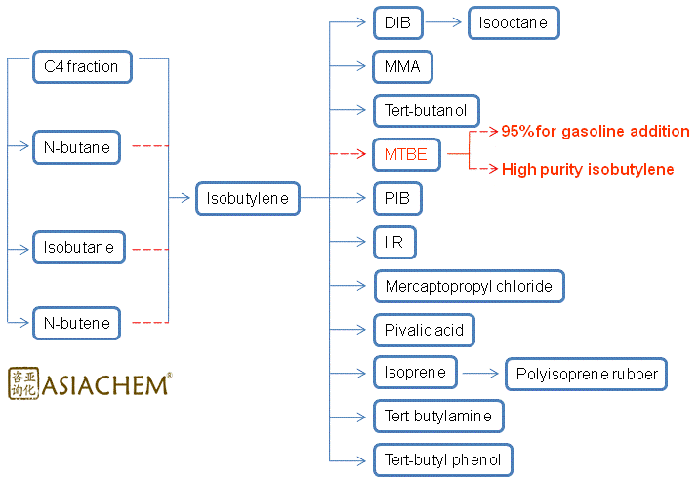 We have to ask, where is the way out in the ethanol gasoline era for MTBE? How to use isobutylene when MTBE abandoned? Enterprises will face the problem of the transformation of the C4 industry chain. It is necessary to lay out in advance and develop new technologies with high value-added utilization to effectively support the sustainable development of the company.

2nd C4&C5 High-value Utilization Conference 2018 will be held on August 23-24 in Qingdao.
Topics
1. C4&C5 resources status and trends
2. Global olefins feedstock lightening trend and C4&C5 supply and demand balance
3. C4&C5 separation and purification technology
4. C4 (butene, butane, butadiene, etc) utilization technologies and catalysts
5. C5 (dicyclopentadiene, isoprene, pentadiene, pentane, etc.) utilization technologies and catalysts
6. Isobutene downstream updates (DIB, MMA, polyisobutylene, butyl rubber, etc.)
7. MTBE swith to other production and high value-added utilization
8. New C4&C5 high-end chemicals deep processing technologies and economics
9. Engineering examples of C4&C5 by-products value-added utilization
10. C4&C5 high-value derivatives and prospect analysis
11. Business travel