Fast capacity expansion vs slowing demand growth, can China's polycarbonate industry achieve sustainable and healthy development?
2019-07-11
• China is the world's largest PC producer and consumer. By the end of 2018, China has the PC capacity, production, apparent consumption and external dependence of 1.66Mt/a, about 680kt, 1.84Mt and over 60%, respectively.
• China's PC industry is ushering in a boom of capacity expansion. It is predicted that China's PC capacity and demand will be about 3.6Mt/a and 2.55Mt/a by 2023, and meaning overcapacity of the industry.
• The 4th Polycarbonate Technologies & Market Conference 2019 will be held on Aug 28-29 in Hangzhou, Zhejiang. Besides, an industrial visiting will be arranged.
Polycarbonate (PC) is a kind of thermoplastic engineering plastics with excellent comprehensive performance, and has been widely used in many areas. The increase of PC demand promotes the fast development of China's PC industry, and China has become the world's largest PC producer and consumer.
According to AISACHEM's statistical data, by the end of 2018, China has built PC capacity of 1.16Mt/a, accounting for more than 20% of global capacity, which distribute in Shanghai, Zhejiang, Shandong, and Beijing. The main PC producers include Zhejiang Jiaxing Teijin Polycarbonate Co Ltd (150kt/a), Shanghai Covestro Polymers (China) Co Ltd (400kt/a), SINOPEC Mitsubishi Chemical Polycarbonate (Beijing) Co Ltd (60kt/a), Mitsubishi Gas Chemical Engineering-Plastics (Shanghai) Co Ltd (80kt/a), Ningbo Zhetie Daphoon Chemical Co Ltd (100kt/a), Liaocheng Luxi Polycarbonate Co Ltd (200kt/a), Wanhua Chemical Group Co Ltd (70kt/a), Lihuayi Weiyuan Chemical Co Ltd (100kt/a).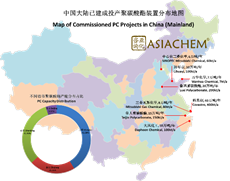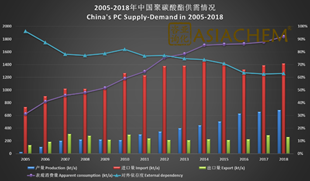 China is one of the most important PC market in the world. China has an annual growth rate of PC apparent consumption in 2005-2018 of 8.7%, leading to 1.84Mt apparent consumption in 2018. In supply side, China's PC production has increased about 28 times in 2005-2018, with production of about 680kt/a in 2018. However, due to the huge gap of supply-demand balance in China, the net import has exceeded 1Mt for many years, and the external dependence has remained high. In 2018, China imported about 1.4Mt PC, with external dependence over 60%.
For technology routes, several PC production processes include interfacial phosgene condensation, melt transesterification, phosgene-free melt transesterification, have industrial application examples. Particularly, as a kind of high-end petrochemical with high value-added and high technology threshold, the breakthrough of PC processes with independent intellectual property rights, i.e. Wanhua Chemical, Lutianhua Zhonglan Guosu, etc., plays an important role in the development of China's PC industry.
Due to huge market demand, high value added of product, advancing by capital/technological resources of both home and foreign investors, planning, newly building or expansion PC projects are being launched intensively in China, and in next few years, China will has a release period of PC capacity. ASIACHEM's statistical data shows that, China has about 20 PC projects under planning or building, with total capacity of more than 4.6Mt/a; according to conservative projection, 2.41Mt/a PC capacity will be released in China by 2023, leading to China's PC capacity of about 3.6Mt/a.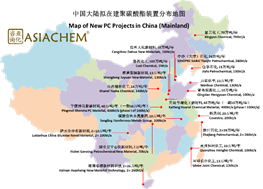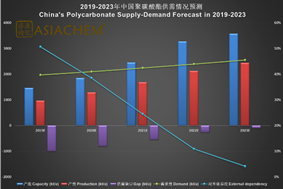 In next few years, PC supply-demand market in China will change dramatically. It's optimistically projected that, China will remain the most important engine for the growth of global PC demand, with the number of about 2.55Mt by 2023 based on annual growth rate of 6.7%; while China's PC production increase rapidly with the release of new capacity, with a number of about 2.44Mt. It seems that China will show a basic PC supply-demand balance by 2023, but in fact, China imports more than 1 million tons of PC products, which cannot be simply substituted. Based on optimistically projection, non-substitutable high-end PC import products may as high as about 500kt, meaning overcapacity of China's PC industry.
As the indispensable raw material of PC production, Bisphenol A (BPA) is one of the key factors of China's PC industrial competition. Industry believes that PC project can basically maintain a certain level of profit only when the PC-BPA price gap is larger than CNY 6000/t. Since H2 2018, PC industry has shifted from a period of high profits to a period of balanced profits and losses, or even general losses, due to the sharp fall in PC price, and PC-BPA price gap narrowing to nearly CNY 6000/t.
In 2018, the BPA capacity in China was about 1.4Mt/a, the apparent consumption was about 1.65Mt, with PC consumption ratio of about 48% and BPA net import of about 450kt. In next few years, the sharp growth of China's PC production will drive the rapid growth of China's BPA consumption, and it is predicted that China's BPA demand will reach about 3.86Mt in 2023, with annual growth rate of about 19%, PC consumption ratio of about 67%. However, supply-demand gap of China's BPA is expected to increase rapidly, because of limited release of new capacity, which will result in more severe competition for BPA resources. In the future, PC profit space may have a huge shrinkage under the double-pressure of significant increase in BPA price and continuous falling in PC price.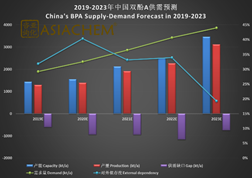 Under the background of fast PC capacity expansion in China, how to achieve sustainable and healthy development becomes a hot spot in the industry. On one hand, the market share of PC in traditional downstream applications is facing the competition pressure from other engineering plastics and new materials. It is urgent to find and expand new application markets in order to ensure the steady growth of demand. On the other hand, with the rapid expansion of China's PC capacity, the low-end and commodity market may face the pressure of overcapacity and fierce competition. Therefore, PC producers shall focus on overseas emerging markets, to develop and distribute overseas markets, and participate in international competition.
ASIACHEM launched <China Polycarbonate Technologies & Market Annual Report 2019>, to discuss the content including: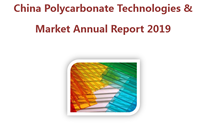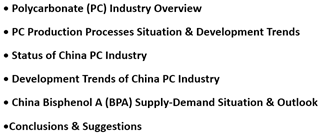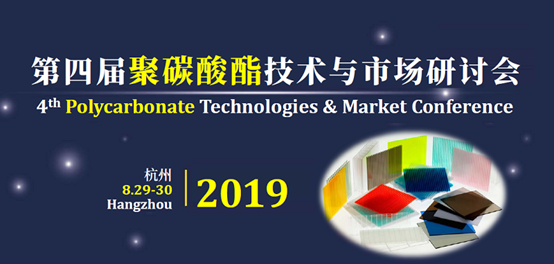 The 4th Polycarbonate Technologies & Market Conference 2019 will be organized by ASIACHEM on Aug 28-29 in Hangzhou, Zhejiang. The upcoming conference will discuss PC industry policy analysis & market outlook; progress of new PC projects; investment plan & application analysis for new PC projects; PC downstream application innovation & future prospect; BPA feedstock supply-demand market & investment opportunity; PC recycling, etc. Besides, an industrial visiting will be arranged.
Topics
1. PC industry policy analysis & market outlook
2. Progress & planning of new PC projects
3. Investment & application analysis for new PC projects
4. Comparison of different PC processes & their product properties
5. PC innovation processes & industrializing prospect
6. BPA feedstock supply-demand market & investment opportunity
7. Analysis of PC industrial chain integration development
8. Automotive lightweight & PC application development
9. PC downstream application innovation & future prospect
10. PC recycling & its future trend
11. Safety & environmental issues of PC production & application