ASIACHEM: TOPCon Technology Will Become Next Generation Industrialized N Type High Efficiency Cell Breakthrough Point
2017-12-13
With increase of silicon wafer quality, c-Si cell surface recombination has become main factor to constraint its efficiency, surface passivation technology is very important. PERC cell, which attention is extremely high at present, is to introduce Al2O3 / SiNx dielectric layer to rear side and to passivation, reduces electron recombination and increases cell transformation efficiency. However, as PERC cell limits rear side contact range in open hole area, except increasing complexity of technology, high recombination speed in open hole area still exists. So, is there a method that can reduce surface recombination but also do not need open holes?

What is TOPCon technology?

In recent years, a technology that can realize rear side whole sheet passivation, and no need to open hole contact becomes hotspot of research, this is so-called TOPCon (Tunnel Oxide Passivated Contact) technology.

The technology prepares a ultra thin tunneling oxide layer and a heavily doped multi-Si thin film, both of them co-forms passivated contact structure, which provide good surface passivation to rear side of silicon wafer. As oxide layer is very thin, silicon thin layer has doped, majority charge carrier can penetrate these two passivation layers, minority charge carrier, on the other hand, is blocked. If deposit metals on it, passivation contact that does not need open hole can be obtained.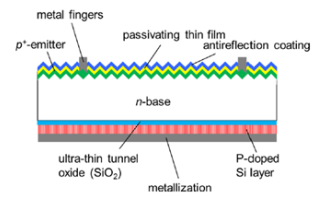 TOPCon Cell Structure

TOPCon technology can not only improve cell surface passivation but also promote majority charge carrier transfer, so that open circuit voltage and filling factor of cell can be increased. Technology advantages of TOPCon cell are as below:
1) Whole rear side passivation combines with carrier collection, benefit for increasing filling factor;
2) Significant decrease electrode contact area recombination speed, can obtain higher open circuit voltage;
3) Avoid using laser opening hole technology, simplifies cell manufacturing technology;
4) Use SiO2 passivation layer, can compatible with mid and high temperature sintering technology;
5) Can compatible with current N-PERT production line.

TOPCon technology research progress

Concept of TOPCon cell is first proposed by Germany Fraunhofer ISE on 28th EU PVSEC in 2013. Fraunhofer ISE used N type FZ silicon wafer, front sheet uses pyramid etching, boron diffusion, Al2O3+SiNx laminated film plays roles of passivation and anti reflection, rear side uses TOPCon technology, front sheet and rear side metallization all use evaporation Ti/Pd/Ag laminated structure. In 2015, the company announced that its cell used TOPCon technology efficiency increased to 25.1%. In 2017, Fraunhofer ISE used N-TOPCon technology and increased multi-Si cell efficiency to 21.9%.

In Nov 2016, on 12th CSPV, Shanghai Shenzhou reported its N type TOPCon cell research progress. Base on N-PERT cell, Shanghai Shenzhou used TOPCon technology, cell average efficiency reached 21.4%, peak efficiency reached 21.74%. The company estimated to increase its N-TOPCon cell mass production efficiency to more than 22% in 2017-2018.

In Sep 2017, on CPVC 17, Yingli reported that, it introduced TOPCon technology base on regular Panda cell, cell efficiency could reach 21.6%, open circuit voltage reach 676mV, filling reactor reach 80%. Panda-TOPCon bifacial cell uses Czochralski method N type mono-Si wafer, front sheet in sequence is boron diffusion emitter, SiO2/Si3N4 passivated anti reflection layer and metal electrode; rear side in sequence is tunneling oxide layer, doped multi-Si layer, SiNx passivated anti reflection layer and metal electrode. Yingli stated that, open circuit voltage and filling factor of Panda-TOPCon dual-sided cell still exist huge increasing space, this technology can extremely reduce unit watt cost of N type cell.

In 2017, Jolywood and Linyang New Energy, China enterprises realizing N type cell large scale mass production, stated in public that, will develop N-TOPCon technology base on N-PERT technology mass production, estimate average efficiency will exceed 23%.

Besides, NREL, ECN, ANU, Institute of Microelectronics of CAS and Ningbo Institute of Industrial Technology, CAS etc. China and abroad research institutes all do researches in this field and explore different passivation materials and structures.

ASIACHEM believes that, solar cells using TOPCon technology have excellent rear side passivation effect, no need complex passivated layer opening technology, extremely simplify cell manufacturing technology and has space to further increasing transfer efficiency, it may become next generated industrialized N type high efficiency cell breakthrough point.