2017 Global Market Share Reaches 30%! See Domestic Front Silver War of Break Out and Road of Advanced on
2018-03-12
Conductive paste (front silver, back silver and back aluminum) is key material to increase c-Si solar cell conversion efficiency and effectively support PV modules outputting more power. In 2017, global PV market has achieved unprecedented prosperity, which greatly promote development of upstream conductive paste industry.

Conductive paste occupies 50-60% of cell non silicon cost, and main non silicon material that influences solar cell cost. Among, silver paste, especially front silver, influences the most of efficiency and cost of solar cell, and has become contest point of PV silver paste market competition in recent years.

China Photovoltaic Industry Association (CPIA) statistics shows that, in 2017, global new increased 102GW installation, YOY increase 37%; and China new increased 53GW, YOY increase 54%. Global cell output was about 100GW, a demand to solar cell front silver is about 2700t.

As technical threshold of front silver is quite high, in PV industry development progress in the past, front silver market is mainly occupied by Heraeus, DuPont, Samsung and Giga Solar etc. 4 tycoons. However, facing requirement of PV industry continues reducing cost and challenges of grid parity, it is extremely urgent to accelerate localization process of front silver.

Before 2011, China front silver technology has no breakthroughs. Until 2016, domestic made front silver enterprises which have many years' technological accumulation seize the market opportunities and fast-rising. With relatively stabled product quality and cost advantage, their market shares gradually climb up. So, in 2017, facing such huge market opportunity, what is performance of domestic made front silver and 4 huge paste factories in competition?

ASIACHEM research indicates that, in 2017, domestic made front silver shipment is about 800t, about 30% market share of global solar cell front silver market. Among, enterprises which annual shipment exceeds 80t include Wuxi DK Electronic Materials (DKEM), Suzhou iSilver Materials, Shenzhen Soltrium, Changzhou Juhe and Shanghai TransCom, which may be called representatives of domestic made front silver enterprises. Meanwhile, it can also indicates that, product performance and quality of domestic made front silver is continuing increasing, and gradually accepted by cell manufacturing enterprises.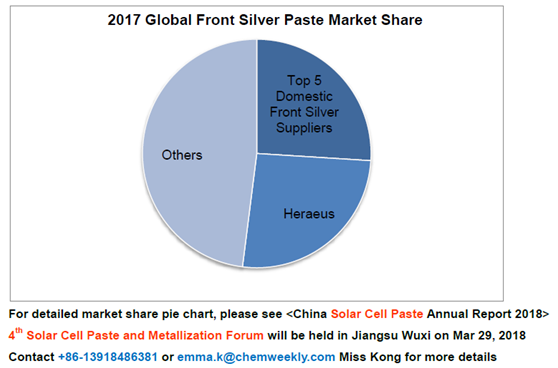 After door of front silver technology monopoly is opened, in order to realize continuing increasing of market share, what domestic made front silver enterprises should do to advance on?

First of all, product is the key.

On one hand, domestic made front silver enterprises should have independent core technology, continue improving performance of glass powders, organic carriers and silver powders, paste manufacturing technique and reasonable match of screen to ensure the sustainable improvement and development of products. On the other hand, diversified development of high efficiency cell technology and increasing fierce market competition are development trend in the future. Domestic made front silver enterprises need to continue developing new conductive paste that matched high efficiency cell technology, and supply differentiated products.

Currently, advanced technologies of PV industry include PERC, black silicon, multi busbar / non busbar, knotless, N type bifacial cell, P type bifacial cell, and HJT etc., shows situation of 'all flowers bloom together'. Different technology comes up with different requirement to conductive paste. Domestic made front silver enterprises need to have abundant funds and talents reserves, continue investing on R&D, to adapt rapidly changes' industry development.

As outstanding delegate of domestic made front silver enterprise, DKEM needs to be mentioned. DKEM came up with DK91 series high efficiency front silver solution in 2016, and has industry leading advantages on high efficiency multi-Si, high efficiency mono-Si and PERC mono-Si and multi-Si, advanced printing etc. each kind of metallization technology. In 2017, DKEM came up with brand new DK92 technology platform, first compatible with each kind of back passivation coating process, includes bifacial Al2CO3 coating process. DKEM guarantees to the market, to continue high R&D intensity and supplying high quality products, which practice its product concept of 'When Performance Matters'.

Secondly, base on ensuring product performance, further reducing cost.

PV silver paste belongs to fine chemicals, each kind of raw material has its specificity and high requirement. Raw material influences cost the most. Technology maturity and supply of domestic made silver powder is also factor that influenced domestic made front silver development process. Dr. LI Delin, chairman of Shenzhen Soltrium, introduced that, there are 3 technology routes to reduce cost of PV silver slurry.

Firstly, raw material gradually steps from imported materials to mixed materials, and turns to material localization at last. Currently, comprehensive performance of domestic made material is slightly lower than imported material. However, with upgrade of raw material suppliers' technology, and continue R&D of paste enterprises, it will be a trend at last. Secondly, increase silver paste enterprises' delicacy management level, increase product production efficiency, reduce defective rate and loss, reduce other operating cost and further reduce product cost. Thirdly, through technology upgrade, reduce usage of silver paste of each solar cell, meanwhile, ensure product quality.

At last, customized service.

With continues changing of cell production technology, different cell factory to quality requirement of raw material, process route and manufacture device are different, which leads each cell factory has unique product requirement. In hence, how to rapidly respond process conditions of clients, to optimal adjusting paste formula, will be main challenges of future domestic made front silver development.

Suzhou iSilver Materials, which performance was also strong in 2017, from the beginning of 2018, announced to wholly launch customized service, which means, to supply different conductive paste solution to different clients' requirement whatever size the order is. Suzhou iSilver Materials stated that, in recent years, it accumulated a lot of client service experiences, and has 10 thousands of experimental formula and hundreds of raw material collocations, includes key raw material glass powder and silver powder. The company is competent to recognize clients' actual requirement, and comes up with targeted solution, and makes clients' cell conversion efficiency maximum, cost the lowest. Live up to take care of customers and realize win-win.

Dr. ZHANG Weiming, Heraeus PV CTO, stated when interviewed by media that, every industry will gradually develop from disorder to order, solar energy industry is no exception. Who will take the lead in technology, who will take the lead in industry.

Front silver market of 2018 will be a battleground full of smoke. Whether domestic made front silver further increase market share, and long term contend against imported enterprises which have strong competitiveness, or even reach leading position? Let's wait and see.