Background
Polycarbonate (PC) is the fastest growing one among the five major engineering plastics, which has been wide used in many areas including electronic appliance, sheet & container, automotive industry, medical instruments, protective equipment, aviation & aerospace, optical elements, optoelectronic information, etc., because of its excellent comprehensive performance.
China has become the largest PC producer and consumer in the world. PC capacity in China reached 855kt/a, and the commissioning of Zhetie Daphoon, Luxi Chemical, Wanhua Chemical PC projects broke monopoly in China's PC market by foreign industry giants. In 2017, the apparent consumption, production, and net import of PC in China was about 1.75Mt, 660kt, and 1.1Mt, respectively, with self-sufficiency rate less than 40%.
As a high value-added new chemical material, PC is one of industries encouraged by the country, and becomes one of the key directions for transformation & upgrading of petrochemical companies. In next few years, several PC projects will be built and commissioned in China. Besides extension or new PC projects built by international giants such as Covestro and SABIC, Wanhua Chemical, Lihuayi Group, Yangquan Coal Hengyuan Chemical, Lutianhua Zhonglan New Material, Luxi Chemical, Zhejiang Petrochemical Pingmei Shenma, Cangzhou Dahua New Material and so on, is also building or planning PC projects.
What is the development prospects of PC industry? Will the production technology be totally changed? How about the raw materials market & supply outlook? Which aspects of downstream applications will be the most potential for growth? How to survive & develop in encouraging competition for domestic & international enterprises?
The 3rd Polycarbonate Technologies & Market Conference 2018 will be organized by ASIACHEM on Aug 22-23 in Qingdao, Shandong. The upcoming conference will discuss global and Chinese PC market outlook 2018-2022; PC innovation processes & industrializing prospect; China's PC capacity expansion planning; process selection & product scheme for new PC projects; development & market potential of PC new downstream applications; prospect of BPA feedstock market & supply; safety & environmental issues of PC production & application, etc. Besides, an industrial visiting will be arranged.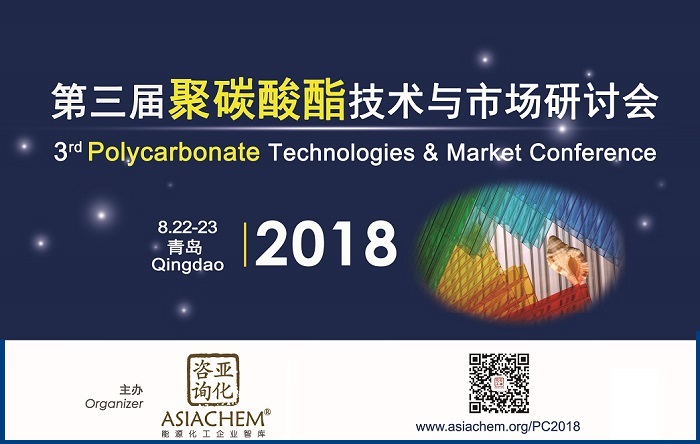 Topics
1. Global and Chinese PC market outlook 2018-2022
2. China's PC capacity expansion planning
3. Investment plan, process selection & product scheme for new PC projects
4. Economic & product performance comparison of different PC processes
5. PC innovation processes & industrializing prospect
6. Technical innovation of DMC, DPC processes
7. BPA feedstock market & supply outlook
8. PC products development & challenge under automotive lightweight trends
9. Development & market potential of PC new downstream applications
10. High-end & specialized PC modified plastics & plastic alloys
11. Safety & environmental issues of PC production & application
Program
Aug.21, 2018 Tuesday
17:00~20:00 Pre- conference Registration
Aug.22, 2018 Wednesday
08:30~12:30 Speech
12:30~14:00 Networking Lunch
14:00~18:30 Speech
18:30~20:00 Banquet
Aug.23, 2018 Thursday
08:30~17:30 Industrial visiting